The Flash Spoilers: 7 Things to Know About "The Trap"
Jim Halterman at . Updated at .
Let's set a trap, shall we?
However, as we move into The Flash Season 1 Episode 20, can our team set the perfect trap to finally get the goods on Harrison Wells? Or is the diabolical doctor (who we know is really Eobard Thawne) going to outsmart everyone once again?
And remember The Flash Season 1 Episode 15 when so many things happened - Cisco died, Iris found out that Barry was The Flash, etc. - that were reversed later on?
Look for those moments and many more to be recalled in a very interesting way this evening.
To help you Flash Fanatics get excited for tonight's stellar episode, the good folks at The CW granted TV Fanatic an early peek at "The Trap" - and here are seven things you absolutely need to know heading into the latest installment of this network favorite...
The past/present/future are here: We'll be over the place this week; from present day... to a time shortly after Barry was struck during the particle accelerator explosion... to many, many pieces about the future that give us an idea where many of characters may end up in both the personal and professional. We even get a glimpse of a future superhero suit.
Gideon clues us in: The Artificial Intelligence computer has more screen time than she probably has ever had before. And we find out she has a special relationship with one of our team (and it's not Wells), offering up some valuable information.
We go back to the bunker: Remember the big events that happened inside the bunker when Wells killed Cisco a few weeks back? Of course, Barry changed it all later with his time traveling - but part of the trap to get Wells is recreating that previous moment. However, could it backfire if the gang gets Wells face to face with Cisco, spilling everything (like he did before) about killing Nora Allen?
And you are…?  We'll see the moment in the past when two of our regular characters meet for the first time.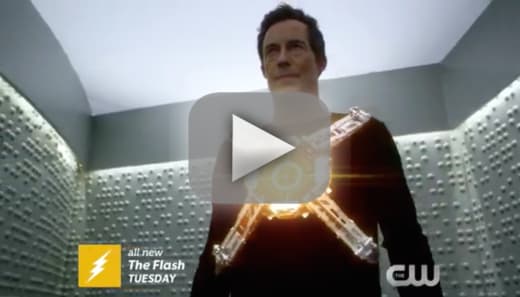 Singh and his man are back: We haven't spotted him since "Out Of Time," but we'll get to see Singh and his fiancé, Rob, once again. With so much going on around town, though, will they make it to their own wedding?
More on the Barry and Harrison Wells relationship: The relationship between the two men is a complicated one. Expect to see just how complicated this week. Despite knowing Wells is the man responsible for killing his mother and putting his father in jail, Barry still likes him and is well aware of how much Wells has helped him. Are these guys friends or foes? Or a little of both?
Iris West is a super journalist: The young reporter is on to something big, piecing together everything that's been happening in Central City since the particle accelerator exploded. Will Barry let her stay on this path before she truly knows everything? Or maybe she already is more in-the-know that we realize?
The Flash Season 1 airs Tuesdays at 8/7c on The CW.
Jim Halterman is the West Coast Editor of TV Fanatic and the owner of JimHalterman.com. Follow him on Twitter.