The Odd Couple Season 1 Episode 9 Review: Sleeping Dogs Lie

Stacy Glanzman at . Updated at .
Wow, The Odd Couple Season 1 Episode 9 was actually, dare I say it? Funny. 
Seriously guys, I laughed. More than once. 
Of the sports cameos they've had so far, Chris Webber is easily my favorite.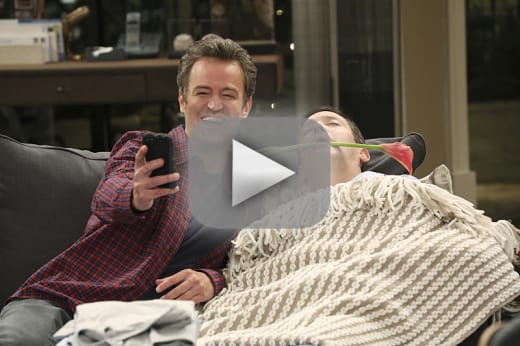 The scene with Oscar and Felix fighting over the pillow with Teddy, Chris, and Dani standing back watching was hilarious. I loved that Chris was so interested in their argument that he was asking Dani to fill him in on the details. 
Chris Webber: Why is the little guy so troubled?
Dani: He's cranky, he needs a nap.
It just got better when Oscar gave Chris the pillow and told him to keep it away from Felix. I was cracking up at Felix jumping up and down trying to get it from the 6'10'' former NBA player. 
Chris wasn't expecting Felix to launch himself off the couch and steal the pillow, prompting Oscar's "you gotta work on those turnovers, man" line. 
That scene alone would have been enough to make this my favorite installment of the season, but the rest of it was pretty enjoyable too!
The ongoing butt joke didn't get old. The closing scene with Dani and Felix checking out Teddy's Instagram was great. Felix was outraged until Dani told him he had 134 likes and some very positive comments, including at least one inappropriate one and another one from Teddy's own wife. 
Oscar and Felix going to Ashley's to retrieve the pillow could have been a disaster. As soon as I saw the yoga mat on the couch, I assumed she was going to return having realized she left it and catch them. I'm glad that didn't happen. 
I did feel a little uncomfortable when Felix was babbling on in the elevator. I just wanted so badly to slap him and make him stop talking. Oscar did a great "deer in headlights" when Felix decided to make him Scottish. He is pretty good at thinking on his feet, especially when he told the maintenance man he should get checked out. 
Did anyone else notice that Felix has the same laundry folding device as Sheldon from The Big Bang Theory? I have to admit, it made me wonder what it would be like if the two of them ever met. Was that just me? 
Did you guys laugh too? Is this a sign of more to come? I hope so! Chances are I'm overrating this due to so many lackluster installments, but I'm okay with that. 
If you missed anything, you can watch The Odd Couple online any time! 
NOTE: The Odd Couple Season 1 Episode 10, titled "Enlightening Strikes" and The Odd Couple Season 1 Episode 11, titled "Jealous Island" will air on Thursday, May 7. 
Stacy Glanzman was a staff writer for TV Fanatic. She retired in March, 2019.