Weird Loners Season 1 Episode 4 Review: Weird Knight

Amanda Festa at .
In the game of life, there are players and there are pawns. And how they work together or against each other can make or break the outcome of the game. 
On Weird Loners, up until this point, it has seemed like most of the action was split between two predominating pairs – Stosh/Caryn and Eric/Zara. 
Setting up an ensemble cast in the first few episodes of a series can be a bit like musical chairs for character dynamics. 
Weird Loners Season 1 Episode 4
 finally gave us the last (and most awkward) pairings: Stosh/Zara and Eric/Caryn.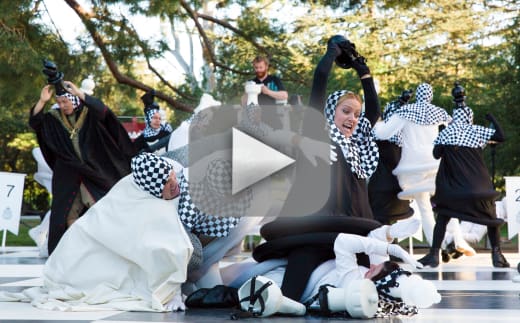 It's a hurdle that has to be overcome by any sitcom that includes a group of closely connected characters. After all, each character has qualities that play better off certain characters, and each character has relationships that are more central to their storyline than others.
And yet, you can't have characters in an ensemble who simply do not interact. I am not talking about characters that dislike each other, but those who just have nothing in common, not a lot of chemistry, and whose personalities work great for the show, but for whatever reason, just have little to offer in a one-on-one capacity with particular other characters.
Stosh is a salesperson in his personal and professional life. Zara is a street artist with no pretenses to be had and no desire for financial success. These two would never be friends. Sure, there is an element of banter there. Zara calling him out on his obvious bullshit in a deadpan matter-of-fact way can be really funny depending on the quips. In that vein, "Weird Knight" had a couple witty well-delivered exchanges.
Stosh: I want to rep you!
Zara: I have a whistle.
Stosh: No, I want to rep you, to represent you as an artist.
Zara: It did seem strange that you would give me a heads up.
He takes on the role of her art representative, entering Zara into a contest and schmoozing the judges with an elaborately fictional back story about a tragic childhood in Mumbai (she was raised in Yonkers). Zara plays along, upping the ante with a tale of her harrowing escape to America in the wheel well of a plane.
Although not much is known about Zara, it does seem strange that she would go along with this lie to win money – since her spirituality is one of the few things we do know about her. However, this was one of their strongest scenes, so in order for this relationship to work, concessions must be made.
Similarly, Eric and Caryn also suffer from this lack of common ground. He asks her to go on a date with his friend as a favor to him and, while she agrees, in the process, she is pretty insulting of his interests.
Eric: A rook can travel the entire length of the board in one move. I bet it feels like you're soaring on the clouds of heaven.
Caryn: Or walking ten feet in a bad Halloween costume.
Eric: That's not funny because this is my life. It's not a game.
He later gives it back to her when his friend blows her off, telling her that her go-to date story is not funny. There isn't bad blood between them, so it's odd to have them insult each other, but they don't seem overly amicable either. And in the end, when Eric defends her as being "emotionally fragile," it seems a little forced.
While Stosh and Zara can find the space to have a bit of a contentious, ribbing friendship, Eric and Caryn may be the hardest sell when it comes to character dynamics. Overall, "Weird Knight" had some funny moments, Eric is getting better and better with each episode, and Zara was finally given something substantial to do – in fact, she may be the character to watch.
What did you enjoy most about "Weird Knight" and what are you looking forward to in Weird Loners Season 1 Episode 5? Let us know in the comments. And if you missed this episode or others, you can watch Weird Loners online at TV Fanatic.