Battle Creek Series Finale Review: Sympathy for the Devil

Carissa Pavlica at . Updated at .
Well. That was unexpected.
At the beginning of Battle Creek Season 1 Episode 13 when Milt was in his car getting teary eyed before his run, I did it right along with him. Again, as the two men shared their final scene before the credits rolled, there came the waterworks.
What a damn shame that this fine show wasn't given the proper respect it deserved. Even so, that the hour focused mainly on the two protagonists worked very well for a series finale and it didn't feel like we were leaving them in a bad place. Thank goodness!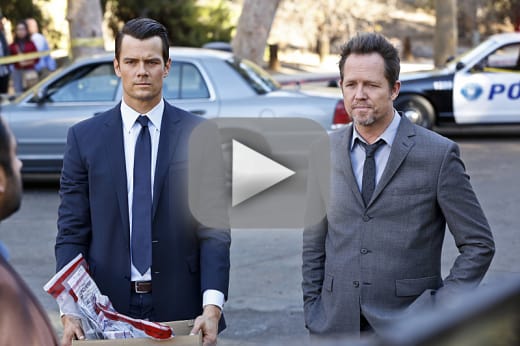 It was pretty obvious as the season wore on that the show picked up momentum, and it was a lot of fun to see so many of you coming to the reviews when at first it felt like I was watching alone. That's proof that series really do pick up steam if given time to gather an audience.
Just like the show itself, the friendship between Russ and Milt blossomed and I daresay that after he's released from the hospital, the two will finally get that beer. We'll never have the pleasure of seeing it, but at least we know it's coming.
The story of Milt's former Russ-like ways, when he threw caution to the wind and skirted the rules to get the job done, made it awfully easy to see why he and Russ butted heads. It's also easy to understand why Milt could embrace Russ more fully than Russ Milt.
Milt has been Russ and he knows the damage that his actions can cause. Every second of Milt's day is likely spent wishing he could just fall back into Russ ways, but he has Casey's death on his hands. Two deaths, really, that push him to do things by the book, even if at his heart he believes he could get things done without following the rules and have a little more fun doing it.
Can you imagine how much it must pain him to be faking it until he makes it that every morning he drives an armored car chanting the mantra, "Forward, positive, embrace the day"? The tears in his eyes as he leaned into a primal scream before his run didn't mean as much before we knew his story, but now, just wow. The pain Milt has carried for five years before running into Russ drove everyone around him nuts.
The real pity of it all is this story was just getting started. By the two men reaching this critical point in their relationship, everything was opening up for them. If they had been granted a second season, imagine the partnership that would have come out of the two of them knowing each others secrets.
Milt: Just go, Russ. Do what he says!
Russ: I'm not going anywhere. You're my partner.
They would have continued to poke at their weak spots but been supportive through the hard stuff, as was shown in the final scene. Russ' concern for Milt was genuine, as was his assurance that his new friend was going to be OK. It was as genuine as Milt's laugh with the realization he was, finally, going to be alright. 
Gosh, it makes me tear up again, just thinking about it. 
It was a real pleasure reviewing this show and it almost didn't happen. Thanks CBS, for the nudge. You're up guys. Say goodbye to the series in the comments and let me know what you think would happen between these two amazing men, partners and new friends.
If you missed any of the series, you can watch Battle Creek online. Even though it ended, it's totally worth the watch and won't leave you hanging. Promise!!
Carissa Pavlica is the managing editor and a staff writer and critic for TV Fanatic. She's a member of the Critic's Choice Association, enjoys mentoring writers, cats, and passionately discussing the nuances of television and film. Follow her on Twitter and email her here at TV Fanatic.