Bitten Season 2 Episode 7 Review: Bad Dreams

Carissa Pavlica at . Updated at .
There were were some elements of this hour that really worked.
But there were a lot more elements to Bitten Season 2 Episode 7 that were quite annoying, and they were called alphas. Most notably the Spanish faction. I was really hoping they were over and done with because suffering through their accents is painful.
It's also a really scattered installment overall, with a lot of pieces that don't otherwise match up. Let's talk it out.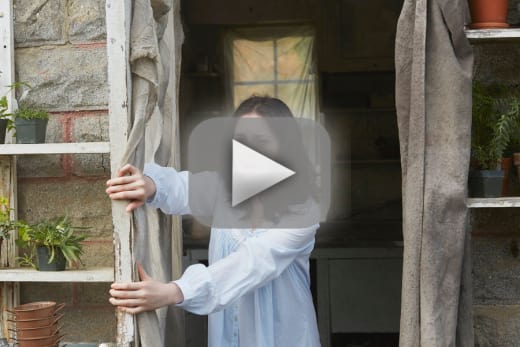 The alphas just aren't frightening enough, as I have full faith in Jeremy at all times. Does anybody really think the alphas will prevail over Jeremy? Especially in his own home with his faithful pack at his side. No way.
As I mentioned, they're difficult to take seriously with their terrible accents. I cringed through the entire hour, but perked up just a bit when Karl Marsten made an appearance. I just love that guy. I'm not wholly sure why he dropped by, as he served no real purpose to the story. Oh well. It was good to see the old chap.
It was good to see Savannah even if she was visiting Elena to bring her bad tidings. Her connection to Aleister is obviously strong, but somewhat disjointed. She appears to know he's going to hurt Elena, but without knowing how he's going to do it. 
Watching Elena get her stomach eaten out is certainly no fun, and it's doubtful that's how Aleister is going to go about taking Elena down, especially since he's taken over Clay's body. That was rather unexpected, but should make him far more menacing than he was in his own form.
The most enjoyable part of the hour was definitely Nick and Paige growing closer. With Paige feeling out of sorts learning she had a half brother who never had contact with his family (even such that he was), she helped Nick connect with his mother Lily.
The scenes turned out really well, and despite the belief that you must kill all humans who know you're a werewolf, how on earth could he really kill his mom?? Wolves aren't supposed to fall in love, either, but it sure seem like he's heading in that direction with Paige. 
There was just so much to like about Nick meeting Lily and that Paige was the one to instigate the connection for him. Can you imagine only knowing of your son from photos but getting to see him in his wolf form, protecting your life? I loved that scene and how proud she was so much.
Now that Syfy has started airing Bitten on Friday nights at 11 PM, is anyone else getting the impression we're saying goodbye to the series? At least in the US? It's a Canadian series, first, but taking Lost Girl (which is already in its last season) and putting it on Thursdays after WWE (a good spot) and sending Bitten off to die at 11 on Fridays certainly isn't a vote of confidence.
What are your thoughts? Are you even here?? Have I lost those of you that were still sticking around? It's a good title for the week, anyway, as it feels like "Bad Dreams" that this is happening, right?
If you lost track of where to find the show with the schedule change, you can watch Bitten online. 
Carissa Pavlica is the managing editor and a staff writer and critic for TV Fanatic. She's a member of the Critic's Choice Association, enjoys mentoring writers, cats, and passionately discussing the nuances of television and film. Follow her on Twitter and email her here at TV Fanatic.