It's the beginning of the end.
That was a direct quote from Ruth about the prophecy business in Bitten Season 2 Episode 8, but with the show airing at 11/10c on Friday nights, it's almost a little too prophetic, don't you think??
I'm riding the soapbox pretty hard this week because I almost didn't come back. I'm angry Syfy has given up on Bitten by shoving it off practically into tomorrow. The only reason I am here is because the cast and crew worked hard to make the series and they deserve to have their show on display. And, dammit, this week was fun!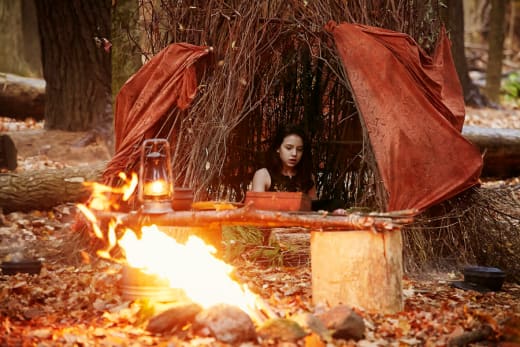 For a very quick minute at the beginning of the hour, it was almost possible to feel a little something for Aleister. During the flashback, when he was essentially playing his magic for tips on the street completely unaware of who he was, I felt sorry for him. Slapping around Clara also became something I would've liked to do.
The gist of the hour was Clay was possessed by Aleister and talked the witches into initiating Savannah to witchy womanhood right at Stonehaven (but not so close the wolves could keep tabs on her safety). Then he slunk around and behaved abnormally, yet far too normal to believe, actually.
What the hell does Aleister even know about the wolves? He just started interacting with them like he'd known them forever. That was a little farfetched. Thankfully, he stuck his foot in his mouth by supposing Jeremy would believe him completely over Elena. Wrong!! 
Aleister really doesn't know much about anything of the real world and Jeremy took Elena at her word as soon as she said she never told Clay about changing in front of Rachel. Where the heck are Rachel and Logan, anyway? They kinda got lost in the shuffle. Really lost.
The jail cell in the basement was very popular as Nick and Paige had some wicked sex against it (Did you see her lips quivering? That girl can act!) and then Clay was finding himself inside his head where he was lost (or locked) trying to find his way back to his family.
There were some great fight scenes, especially between Jeremy and FauxClay. The two of them were doing gymnastics as they bounded back and forth with FauxClay ultimately doing the impossible by thrusting himself from a yard away into the air to get his head right into his own noose with Jeremy then vaulting into the air to knock him back down. Suicide gymnastics as a new Olympic sport?? Technically very fun to watch and well choreographed.
With everything Elena and Clay have been through lately, if they had puppies, they would be an amazing breed. Confident and skilled and loving and beautiful. 
When Clay turned and sent Aleister packing (ha, punny), the latter wound up back in his own body in a car with Savannah in the trunk. I guess at some point he did that as Clay? That was a little confusing.
Elena still hasn't remembered the tequila worm in Savannah's arm, although she does realize there's something a little off with how out of control the young witch is with her powers. If she can just put two and two together, we might have a BINGO moment. 
For now, the spell has been cast as Savannah downed Elena's blood and what looked like an EMP swept across the world, starting the beginning of the end. Ruth immediately began to bleed. Next week is the two part finale. How will it all end? Since it's most likely the end-end, let's hope it's a good one.
If you missed it, you can watch Bitten online and be call caught up in no time.
Carissa Pavlica is the managing editor and a staff writer and critic for TV Fanatic. She's a member of the Critic's Choice Association, enjoys mentoring writers, cats, and passionately discussing the nuances of television and film. Follow her on Twitter and email her here at TV Fanatic.