Brooklyn Nine-Nine Season 2 Episode 23 Review: Johnny and Dora
Robin Harry at . Updated at .
Well, I can honestly say that I didn't see that goodbye coming.
I was absolutely certain that it would be avoided some how. However, on Brooklyn Nine-Nine Season 2 Episode 23, the precinct said goodbye to Captain Holt.
This season finale was fantastic. It was hilarious, it was exceptionally written, and there were surprises to keep us on our toes. The actors all delivered in spades, but special mention goes to Andre Braugher, Andy Samberg and Joe Lo Truglio. Those three killed it.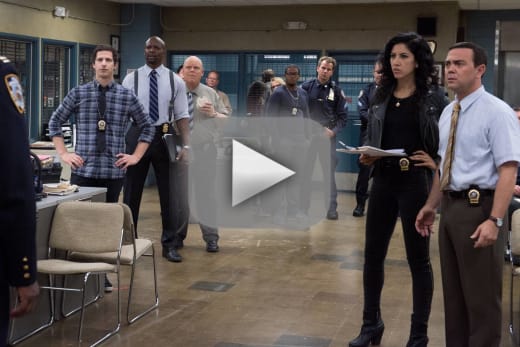 FAREWELL, CAPTAIN HOLT
I've often mentioned that one of my favorite things about each episode is the cold open. This particular opening was absolute perfection; it foreshadowed Captain Holt's departure with a sad farewell to the precinct vending machine. The parallels between the two is writing at its finest.
When the vending machine is being hauled off, Jake quipped:
That machine's been here forever, it's basically part of the force. Take Scully instead.

Jake
The team had a ceremonious, dignified farewell to the machine, which subsequently ended up broken.
With Holt's goodbye, the precinct said farewell to a different kind of machine. It had been a running joke that Holt was somewhat robotic and mechanical in his ways and mannerisms. However, during the season, we've seen him evolve and relax.
During his farewell to the team, Holt started off in his usual mechanical ways, but he broke – just as the vending machine did – and ended up showing more emotion and caring for his team than he ever had. So much so that Jake begged for the old robotic Holt to avoid dealing with the emotion.
This episode was another fantastic outing for Andre Braugher, with an absolute tear-jerker of a parting speech while leaving the 99, not to mention the usual barrage of incredible insults between him and Chief Wuntch.
I'm sure Holt's absence from the precinct will be temporary. Besides, Gina's leaving with him, so I'm sure they'll be back soon enough. In the meantime, there is much potential for humor as the team adapts to a new captain before Holt's inevitable return. Until then, Jake's parting words to the vending machine apply just as well to their farewell to Captain Holt:
Goodbye, beautiful machine. Thank you for your service.

Jake
JAKE AND AMY
One of the other things I've often said I love about Brooklyn Nine-Nine is how self-aware the show is of tropes and clichés, and how they always make it work for them. The case of Jake and Amy was no exception, and the show handled it beautifully.
The "undercover-as-lovers" and "fake-out-make-out" clichés are staples in television. Most police/crime procedurals or shows have done it at some point or the other. However, this show was able to use it for their end game and still make fun of it, and it did so through Charles Boyle.
Charles Boyle was the audience. He was the shipper, the one rooting for the couple with the unresolved romantic tension. He was the genre-savvy best friend who knew you can never dismiss that undercover kiss between two characters with unresolved romantic tension.
Jake and Amy shared three kisses, but it was only the last one that gave me goosebumps. I loved that their undercover make-outs were awkward and funny. However, their moment in the evidence room came from a different place, as they bonded over the loss of their captain and mentor. It was beautiful.
Andy Samberg was phenomenal. He nailed the awkwardness, the longing, the confusion. The look on his face when they first got to the restaurant and Amy kissed Jake – it was just superb. Samberg is a better actor than he gets credit.
CHARLES AND ROSA
Normally I would lament the presence of a side story like this during the season finale. The Rosa-birthday-party story, though incredibly well done, would have been more well suited in an episode that didn't already have so much going on. However, Joe Lo Truglio was so amazing that I wouldn't have cared if the side story was him reading the alphabet.
Charles' enthusiastic response to "Don Johnson"-ing it, his delight at Jake and Amy's kiss, his insatiable Ms Pacman obsession and his triumphant victory moment when he delivered Rosa to her birthday party – all reasons Joe Lo Truglio should have an Emmy on his shelf one day. He was comedy gold.
OTHER NOTES:
Chelsea Perretti's moment was her distraction of the desk clerk with birds that sound like Rihanna. Amazing.
Stephanie Beatriz somehow managed to make being happy and surprised seem weird and creepy. Incredible.
Today in Hitchcock and Scully – I'm not sure which was funnier, Scully wanting to go to the land of vending-machines, or Hitchcock thinking he would be the next captain coming through the elevator.
Jake's Jamaican accent – nod to Ras Trent, one of Samberg's Lonely Island songs. Oh hotstepper, you do so many dirty crimes.
I loved Terry and Gina's little dance while listening to Holt's insults. Also, their one-second reaction to Holt's news was awesome.
I don't blame Madeline Wuntch one bit for her eight minute pat down of Captain Holt. Not. One. Bit.
All in all, this was a fantastic season finale to another solid season of Brooklyn Nine-Nine. There wasn't a wasted second. In case you missed it, you can watch Brooklyn Nine-Nine online.
What do you guys think?  Do you think Holt is gone for good?  Think Amy and Jake can make it work? What was your favorite moment? Thoughts on the season?  Have your say in the comments!