Finding Carter Season 2 Episode 6 Review: Stay with Me

Carissa Pavlica at . Updated at .
This week on Finding Carter, the series once again did the impossible. 
Yes, on Finding Carter Season 2 Episode 6 we're expected to suspend our disbelief in order to play along in the Crash story, which is pretty much the main plot point of the entire hour.
Now, in my view, the focal point of the stories should be on Carter, Taylor, Elizabeth, David and Grant. Then Max because he's an extended part of the family. Somewhere along the line, Crash became staff favorite and things went a bit off the rails.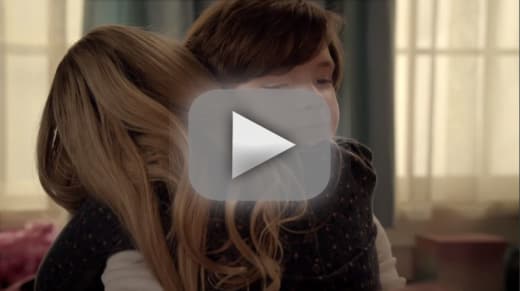 To the series' credit, Taylor was being her new, angsty self. She continues to have cotton in her ears when Max is around, pointedly telling her he is not doing "things" with Bird.
I hated seeing Taylor and Ofe in bed together. Not only because, as Max said, she's not supposed to be the kind of girl who does things with boys she doesn't care about, or because she's going to break Ofe's heart, but because she's just not listening to Max and this is all for naught. Geez she's really stupid when it comes to matters of the heart.
Yet she knew exactly what to do when it came to hugging Grant. What's up with that?
Also angsty on an adult level were Elizabeth and David. Their scenes together were actually really good and they almost had something until Elizabeth admitted that every time they take a step forward, she's met with imagining the other side of the issue and pictures David with Lori. Considering all that they've been through, and how much time hasn't passed, it's a little to early in the game to be thinking divorce. But she went there.
To the credit of Cynthia Watros, that scene was stunning and I could feel Elizabeth's pain at the thought of mentioning divorce. It was as if she was ripping it out of her own throat. I really like her and Alexis Denisof together, so I hope David pushes it and asks Liz to therapy. They haven't even tried that, for goodness sakes.
NEWSFLASH!! You can't join the military while you're on probation. I could research all the different types of crimes for which you can and cannot join and at what age they're affected but they don't matter. It's a hard and fast rule. On probation, you're not going. There are no waivers, no special circumstances, nothing.
So, unless Crash was getting on a bus to some sort of military teen adventure camp, he's on a bus to nowhere. Honestly, it wasn't that hard to write that storyline well. The crap of it is that a single snafu like that ruined the rest of it. Once again he's making a valiant effort that comes off cold because somebody didn't do their research.
As much as I'd like to say the show was going to be getting back to the topics at hand and dealing with the fallout of the damned abduction and the eggs and the affair...instead I see Crash in a short haircut (not even a buzz cut, mind you) back in the extended preview for the remainder of the season.
Hello? Is anybody out there? Are you even reading me? Is it worth it to beat this drum every week? The ratings are falling week by week and the comments with it. Nobody wants to play and it has to be because the storylines aren't living up to what was around when we all fell in love with the series. Is the magic gone?
Hit me up and let me know your thoughts. What's Finding Carter doing for you these days?
If you have no idea what I'm talking about, then watch Finding Carter online and report back. I'll be waiting!
Carissa Pavlica is the managing editor and a staff writer and critic for TV Fanatic. She's a member of the Critic's Choice Association, enjoys mentoring writers, cats, and passionately discussing the nuances of television and film. Follow her on Twitter and email her here at TV Fanatic.