Jane the Virgin Season 1 Episode 22 Review: Chapter Twenty-Two

Mary Kate Venedam at . Updated at .
It's a BOY!
Nine months have come and gone since Jane was accidentally artificially inseminated and finally the baby was born on Jane the Virgin Season 1 Episode 22. 
Of course, the baby's arrival did not come without some drama.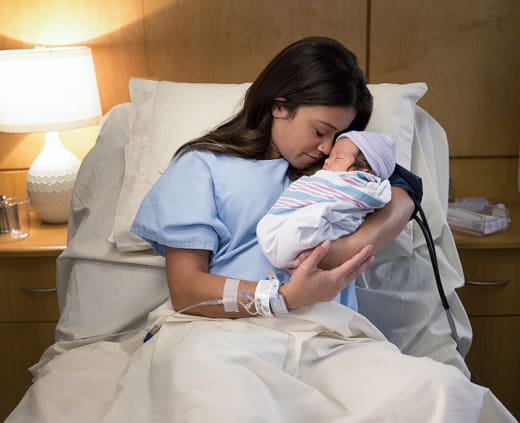 One of the biggest questions of the night was if Jane would get back together with Michael or Rafael. The quickest answer: No, but not for a lack of trying by either of them. 
Rafael re-confessed his feelings to Jane, but she, rightfully, did not run back to him after the heartbreak he caused her. Michael, on the other hand, wanted more, just not second to Rafael. It's obvious though, where Jane's parents stand. Rogelio looked absolutely delighted at the prospect of Jane and Michael getting back together. I'm glad, though, that Jane and Michael can remain friends. 
However, Jane has one important little man in her life. Even though she went in thinking it would be a girl, baby Mateo Gloriana Rogelio Solano Villanueva was welcomed into the family and he was the cutest little thing ever.
Xo and Rogelio almost missed the birth of their grandson thanks to their Vegas show. Before they left they had their own milestone, whether they remembered it or not. They got hitched. It was a very Ross and Rachel moment, and it was hilarious to see their faces once they realized what had happened. Apparently things do not stay in Vegas.
Rogelio also had a very sincere moment when he felt left out of Jane's birth, but the response that you'd expect nonetheless from Rogelio. 
There are many Jesus Christs, there is only one Jane.

Rogelio
While Jane was preparing for her baby, Michael had a visit from Nadine who returned with information on Sin Rostro. Even though it seemed like Michael was careless in leaving Nadine locked up with keys nearby, it was all part of his maniacal plan. Kudos, Michael! It definitely tricked me. That phone tracker will hopefully come in handy in Jane the Virgin Season 2.
As everything was slowly resolving itself for the season, the OMG moments kept on coming. 
First, Petra took her anger and overall evilness to a whole new level. Petra discovered, on her own, that the last bit of sperm that created baby Mateo was actually not the last. Petra took the last of it without Rafael knowing it even exists. It basically brings Petra's story full-circle to secretly (almost) getting inseminated in Jane the Virgin Season 1 Episode 1. 
I have no idea what the repercussions could be if/when Rafael discovers what happened. There is certain to be a very, very angry conversation coming ahead. 
Jane the Virgin as a knack at leaving us hanging, but the ending of Jane the Virgin Season 1 was no joke and made you feel for new mom, Jane. It was adorable to see everyone bond with baby Mateo, which is why the ending hurts so much more. A crazy nurse stole Mateo from the hospital and handed him over to Sin Rostro. Not cool, Rose or whoever you may be now.
I am heartbroken for Jane. I am ready for Michael and Rafael to join forces and kick Sin Rostro's butt and knock down doors to get that baby boy back.  
Where will the show go from here? Why does Sin Rostro want Mateo? Is Rafael going to be a father again...by Petra? So many questions and so much time until the next episode.
If you want to catch up or just watch from the beginning, make sure you watch Jane the Virgin online via TV Fanatic. 
Mary Kate Venedam is a staff writer for TV Fanatic. Follow her on Twitter and on Google+.