What a great way to end the season!
You can definitely say New Girl Season 4 had a rocky start, no thanks to the breakup of Nick and Jess, but once the show came back from their hiatus, they came back strong.
It comes as no surprise New Girl Season 4 Episode 22, was probably one of the best season finales the show has done. All of the characters were accounted for, storylines were tied up nicely and there was a welcomed return of a beloved character.
Let's discuss tonight's season finale of New Girl.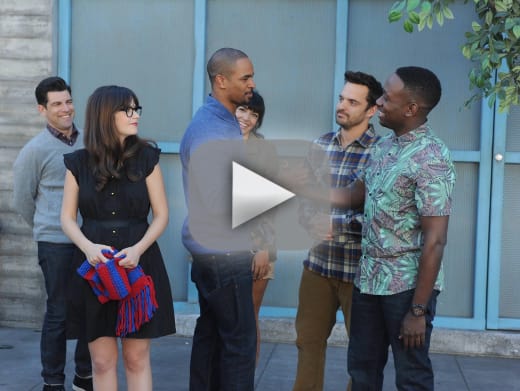 Jess trying to put together a goodbye party for Coach was downright hilarious and you have to appreciate Winston for taking part in it while decked out in Statue of Liberty dress.
Jess: There he is! Mr. New York. Mr. Broadway. Happy last day, I made you this.
Coach: It's a bunch of pictures of you.
Jess: Well, I had to take the necessary precautions because the last time you left, you forgot who I was. You called me Jebecka.
The flashback to Winston and Coach watching an infomercial for a crepe pan while drunk was a lovely reminder of how wonderful their friendship is and it's a shame the show never explored the friendship more of it. I also admit to ordering interesting things while intoxicated.
Can we please have an episode dedicated to Winston leaving voicemails on phones? 
Speaking of Winston, he was on fire tonight. It seems like people forget about Winston and his great comedic timing – plus you can't hate a character who takes weekly pictures with his cat. By the way, Ferguson's return was phenomenal – I didn't realize how much I missed him.
If I were off my rocker, would I take a weekly selfie with my cat?

Winston
Who else couldn't help cracking up over Coach and Winston crying together? I'm really going to miss Coach and I've said it before and I'll say it again, they never utilized him the way they should, so it came as no surprise the actor would be leaving the show. 
Nick and Jess finally talked about their relationship and it almost seemed like they were giving the fans of the couple hope of a possible reconciliation. This whole season it seemed like the show was determined to keep these two apart, but they threw this curve ball. I hope they aren't trying to string fans of the couple along. 
Tonight was a welcome reminder of how sweet Schmidt can be and how special his relationship with Cece is. I was nervous they weren't going to resolve the whole Schmidt/Cece saga until next season, but was pleasantly surprised by the writers giving us one of the sweetest moments New Girl has ever done. 
Schmidt: Are you in love with me? Because I'm in love with you, deeply. I assume that you would never because I messed this up so many times. You've made it very clear you only want to be friends with me and I value that friendship so much. So it I'm ruining it by doing any of this, please stop me.
Cece: Schmidt. I'm in love with you.
When Cece finally admitted to Schmidt she loved him back, I couldn't help the tears from flowing. Every though I've been irritated with the whole back and forth relationship, tonight solidified how great these two are together and I'm happy they are officially engaged. Save the date everyone!
Schmidt: I know this might seem crazy and probably a little bit impulsive, but it's not, not for me. I've known since the minute that I've met you.
Cece: Oh god, you're going to say something stupid, aren't you?
Schmidt: Girl, will you marry me?
Cece: Yes. Yes, yes, yes!
Jess: We're getting married!
New Girl proved, in the end, all that matters is finishing off the season on a high note, which is exactly what they've done. I'm actually looking forward to New Girl Season 5 and how the wedding with come together for Cece and Schmidt.
What did you think of tonight's episode? Do you think Nick and Jess will get back together? Most importantly, how great was it seeing Ferguson again?
Don't forget, you can catch up on the entire season of New Girl. Go watch New Girl online now via TV Fanatic and let us know what you think in the comments below. 
Samantha McAllister was a staff writer for TV Fanatic. She retired in November 2018.