Penny Dreadful Season 2 Episode 4 Review: Evil Spirits in Heavenly Places

Henry A. Otero at . Updated at .
It's tough to follow up an episode like last week's, so Penny Dreadful Season 2 Episode 4 gave us a chance to catch our breath instead.
Sure, the horror element was lacking, but the writers made up for it with lighter moments and smiles sprinkled throughout.
Was this installment a bit of a filler? Absolutely, but that's not necessarily a bad thing. You can feel the tension building, the real madness is coming.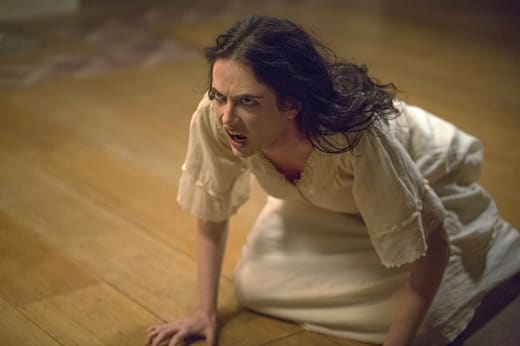 After sharing her history with Ethan, Vanessa relived it all over again for the others. I found it odd with everything Victor has seen, that he had a hard time processing witches. It makes sense because he's a man of science, but I guess someone had to play the cynic for the audience's benefit.
Mr. Lyle continued to amuse and enlighten us regarding the Verbis Diablo. It was crazy that the languages changed from relic to relic. Quite the puzzle, right?
Sir Malcolm: Is it the story of Lucifer then? The angel cast out by God?
Mr. Lyle: Time will tell.
Ethan: How could this one monk know all these languages?
Vanessa: He didn't, the demon did.
Mr. Lyle theorized they were dealing with the memoirs of the Devil. How long before Vanessa is mentioned in those relics? Sir Malcolm seems to think this is about her.
Elsewhere, Inspector Rusk came across Hecate's handiwork. I still can't get over the fact she kidnapped that baby and Evilyn ripped its heart out. That imagery will stick with us until the end of the season no doubt.
Hecate's attempt to get close to Ethan failed. Well, not at first but she certainly overdid the theatrics. I loved the way Ethan called her out, only he thought his father was involved. When will we get a flashback for Ethan? There is still so much mystery there. Which reminds me, the Massacre Inn survivor is Pinkerton agent Mr. Roper. He must have seen Ethan transform, which makes that threat probably worse than the witches.
Wasn't it fantastic to see Vanessa smile while shopping with Victor? If anyone needed a little break from the darkness it's Ms. Ives.
Vanessa: So your second cousin Lily is coming to visit you?
Victor: Yes, that's it entirely yes.
Vanessa: And what are we doing here?
Victor: Yes of course, being a country girl I thought I might buy her a dress or two so she'll fit in.
Vanessa: And you've never shopped for women's clothing before?
Victor: In a nutshell, yes.
Vanessa: Then I shall be delighted to assist you.
Dorian continued to romance Angelique and we learned he wasn't born rich. Speaking of mysterious, we know far less about Dorian than any other character on this show. Will we learn some of his secrets along with Angelique? Or is this relationship doomed because it's all about the attention he's receiving while he's with her? I can't help feel like Dorian is going to break her heart.
Poor Lily, though she looked beautiful, she was terribly uncomfortable. Billie Piper's performance is completely different this season. Her accent last year was a bit distracting, but she's a new woman now and it makes perfect sense. This relationship with Victor is not going to end well.
I was surprised Hecate hissed at her mother. What's with that anyway? It seems like a leftover vampiric thing and I can't get used to the witches doing it. Evelyn is only interested in Vanessa, so I'm not sure what Hecate will do as far as the others. She revealed herself to Ethan though, which was interesting.
The witches blending into the wallpaper was a cool visual.
You'll understand I find it difficult to accept, I'm the object of an eternal satanic quest that so far's only demonstrated in something that's half poetry half gibberish. I'm sorry, no.

Vanessa
Ultimately, the witches attacked and made off with a lock of Vanessa's hair. Will we see that creepy doll next week?
Again, this was a slower episode, but it certainly had some interesting moments. It gave us a chance to spend some time with our characters rather than have them running around or battling something nasty. It wasn't one of my favorite installments so far, but as long as the writers pick up the pace next week I'm fine with it. Every good story is a series of highs and lows.
What did you think of "Evil Spirits in Heavenly Places"? Are the relics Lucifer's autobiography? What will Evelyn do with that lock of hair? Is Dorian falling in love or is it something else? Your turn Dreadfuls, sound off in the comments below.
NOTE: Penny Dreadful Season 2 Episode 5 is titled "Above the Vaulted Sky" and airs on Sunday, May 31.