The Flash Spoilers: Jesse L. Martin Teases Season 1 Finale, Arrival of Grodd
Jim Halterman at .
Will Grodd distract The Flash team long enough for Harrison Wells to get away for good? 
That's basically where we are at the start of The Flash Season 1 Episode 21, as the big hairy gorilla becomes the main objective for Barry Allen and his squad.
And while the dastardly Wells (who everyone now knows is actually Eobard Thawne) may put some distance between himself and his pursuers, we still have a few episodes to go in The Flash Season 1 for Wells to make a mistake.
For now, the gang has Grodd to contend with - and Jesse L. Martin, who plays Detective Joe West, gave me a preview of what we're going to see.
The actor also talked about Joe's decision to not give Eddie his approval to propose to Iris and whether Joe will let go of the guilt he has over what happened to Barry's parents...
TV Fanatic: In the last episode, Joe didn't give Eddie his blessing for proposing to Iris. Do you think his opinion can change? Will we see that play out anymore?
Jesse L. Martin: You will definitely see it play out and the truth is Joe's only going on the information that he has then. You know if you've been watching the show this whole season that things turn on a dime and suddenly, I'm changing my mind about it but at the time when Eddie comes to Joe to ask for Iris's hand, Joe knows some things that don't make that a great idea.
So, again, he can't even explain himself, so of course that puts a strain on my relationship with Eddie Thawne but Joe sees it as absolutely necessary. Somehow it'll all right itself when it needs to or at least he wants to believe that but he knows full well that the world they live in, things could get crazy at any minute then does.
TVF: I know Grodd is coming in the next episode…
JLM: Grodd is coming.
TVF: Is this going to feel like a different kind of villain compared to some of the other meta-humans and things the group has battled this season?
JLM: Yeah, particularly for Joe. I mean its one thing to stare at Captain Cold in the face and his gun and have a fear of that but at least he's human. He's susceptible to a bullet or pain but when you talk about a character like Grodd, it gets established that Joe doesn't even really like normal gorillas let alone an eight-foot-tall, telepathic, supernatural gorillas.
This is a whole new world for Joe. He's handled all this information he's gotten since this accelerator exploded, all these meta-humans came out of nowhere and particularly what has happened with Barry but this Grodd thing is just off the chain. He can't even believe that this is something that happens and that he's part of this life and he's actually in the sewer looking for this thing.
TVF: From the trailer it sounds like Wells is very much behind Grodd coming into everybody's life. Is it really to slow everybody down so he can kind of keep his plan on track?
JLM: Well, you can imagine that anything that goes wrong and that has Wells' name on it in any way, shape, or form is on purpose. He's trying to throw us off pretty well and it works great. This giant creature that he seems to have some control over keeps us from him and it's a good tactic on his part. I mean, he don't know what to do with that big gorilla!
TVF: In the last episode, Joe talks about feeling responsible because he's the one that kind of let Wells take Barry out of the hospital. Is Joe going to kind of let himself off the hook for that, or is he going to kind of continue feeling guilty for that?
JLM: I think as long the situation is the way it is…I mean, Nora Allen being dead and Barry's dad is still in jail so Joe will always feel guilty about that. He'll feel guilty like he may have had some hand in robbing Barry of his natural childhood and I don't think he'll ever let go of that.  I think that's a key part of the character. This still plays also with Iris. No one really knows at this point what has happened to Iris's mom? Why she's not in the picture? So he carries a lot of guilt with him.
TVF: I personally think Joe needs a little loving. Do you think maybe season two Joe can get a little action in on the show?
JLM: We can only hope so, man. At this point, Joe's going through obviously quite a dry spell. He has too many other things to worry about in particularly his children that Joe doesn't have a whole lot of time for loving, but hopefully, next season we'll see.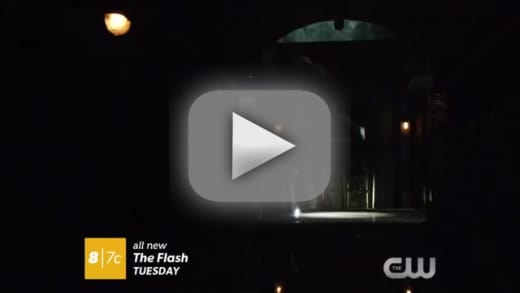 TVF: Do you think anything surprises Joe at this point? He's kind of seen a lot in the last year. Do you think anything can surprise him?
JLM: I think everything surprises Joe. No matter what he thinks he's getting used to, it always goes a little deeper and a little bit further than he ever imagined it would go. So yeah, I think Joe's surprised on a regular basis and it's actually a whole lot more fun to play that way.
TVF: I want to ask you about the short film, The Letter Carrier. I talked to Rick Cosnett right before you guys were shooting and now it's shot. What's next?
JLM: We're actually going into the editing process and the post thing. It was an amazing experience, first time I ever directed anything on film and I was really happy with what we've done. We got most our Flash crew to work with us and they were super psyched working on this little piece, which made us thrilled because we couldn't believe that a whole crew pretty much backed us on our little story. It worked out really well.
The funny thing is we shot it just after we would finish shooting The Flash, right after we wrapped, and everything. Of course, we were all tired. We did 23 episodes of a one-hour action series, so you can imagine all of the work that went in to it but the fact that people still showed up to shoot our little movie was phenomenal. We couldn't even believe that people were there and there with energy and excitement about what we were doing. Somebody even called it 'the decompressing project' meaning we did this whole season of a show and then we picked a project where we could do the same things we normally do but not under so much stress.
The Flash Season 1 airs Tuesdays at 8/7c on The CW. 
Jim Halterman is the West Coast Editor of TV Fanatic and the owner of JimHalterman.com. Follow him on Twitter.