The Mysteries of Laura Season 1 Episode 21 Review: The Mystery of the Deceased Documentarian

Samantha McAllister at . Updated at .
What a shocking ending!
You can easily say The Mysteries of Laura Season 1 Episode 21 main case was overshadowed by the tension between Jake and Laura.
Jake has always been adamant about getting Laura back and while he may be in a new relationship, he's clearly still fighting to be the significant other in Laura's life. 
Let's delve right in and discuss tonight's episode.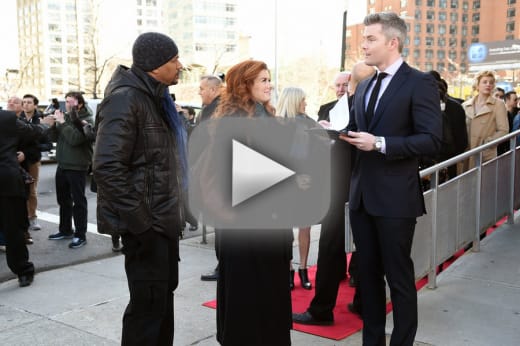 How awkward was the scene between Laura and Jake when she told him about Tony joining her and the boys on vacation?
Of course it's not unheard of for Laura to want Tony to be a part of her vacation considering he's already met the boys and they seem to have taken a liking to him, but you can't deny Jake was completely put off by the entire thing.
Jake: I guarantee the boys will love that one.
Laura: Well...it's not just the boys. I hope you don't mind, I...
Jake: Oh! You invited Tony.
Laura: Following your lead, getting the kids to know the significant other. That's not weird for you, is it?
Jake: No. It's fine.
It's clear Jake is still very much in love with Laura and he needs to just come out and tell her how he feels or move on with his life.
I've said it before and I'll say it again, Jake cheated on Laura and this is why she still has some many issues with him; though I do agree he has grown up a lot, but Tony is a great choice for Laura because he has always been honest with her and he has told Laura what he wants out of their relationship.
Why would Jake even bother telling Laura no, in regard to the cold case, when he knows good and well she won't listen to him?
This is Laura we're talking about – she's going to do what she wants to do because she knows there will be no repercussions; though I do give Jake credit for voicing the reasons why he didn't want Laura to go over the files, but he should know Laura is the perfect person to solve a cold case. 
Jake: What's that? And do not tell me it's the cold case files.
Laura: It's the cold case files.
Jake: I wanted you looking over the files, not taking over the case. I didn't sign the form.
Laura: See, that's weird, it looked signed.
Jake: Well, it wasn't because I don't want you pouring over a 15 year old case file. I want you out looking for Oliver.
The Max and Laura scenes were on point this week and I couldn't help cracking up over Max getting the perfect rental property for Laura. It's been made clear throughout the entire season, Max is a jack of all trades. I'm thrilled they have continued to have Laura and Max's friendship blossom and I always find myself looking forward to these two being together.
The main crime story, dealing with the murder of a hired gofer who was also working as an amateur detective, was actually compelling.
You see people everyday who make great strides in trying to solve cold cases; though I'd never want to be Jake or Laura when they had to interview all of those people in the movie theater.
Speaking of case, Billy, did you really think was going to be that easy to solve the case? I'm surprised Laura would, at first, be OK with solving the crime so quickly – it just seems out of character for her to not immediately suspect something was amiss.
Laura, thankfully, came to her senses and realized the entire murder scene was staged and the killer was still on the loose.
In the end, the most shocking moment wasn't finding out who the killer was, but seeing Jake get shot inside of a gas station after saving an innocent bystander.
What did you think of tonight's episode? What do you think will happen between Jake and Laura?
Make sure to catch up on the entire season and go watch The Mysteries of Laura online now via TV Fanatic.
Next week on the exciting finale of The Mysteries of Laura Season 1 Episode 22, the team scrambles to find the person who shot Jake. Laura and Jake have a heart to heart, but has it come to late? 
Samantha McAllister was a staff writer for TV Fanatic. She retired in November 2018.