The Night Shift Cast Teases Season Finale, Possible Game of Thrones Crossover
Jim Halterman at .
SPOILER ALERT:
The The Night Shift cast is about to do battle with a dragon. It's the Game of Thrones crossover we've all been waiting for!
Okay, that may not be true.
But Jill Flint, Freddy Rodriguez, Scott Wolf and Eoin Macken were in a joking mood when I caught up with them on the red carpet of the NBC Upfront this morning.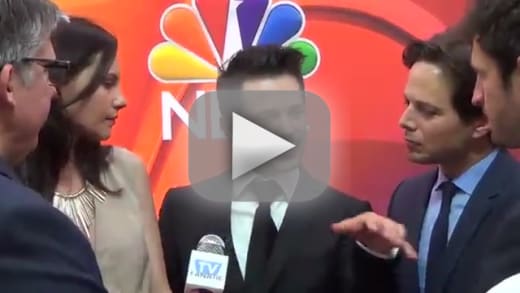 The quartet did give us a bit of a tease when it comes to The Night Shift Season 2 Episode 12, however, specifically when it comes to Jordan and TC's back-on-again relationship.
Now that Scott is out of the romantic picture, will it be clearing sailing for these two?
Not quite, Macken warns fans. Look for things to get a bit "chaotic" tonight.
Check out the interview above and prepare for part one of a two-part Night Shift finale.
Jim Halterman is the West Coast Editor of TV Fanatic and the owner of JimHalterman.com. Follow him on Twitter.