The Odd Couple Season 1 Episode 12 Review: The Audit Couple

Stacy Glanzman at . Updated at .
Sparks were flying all over the place on The Odd Couple Season 1 Episode 12. 
Was anyone surprised by either development? 
It was about time Emily finally got somewhere with Felix. For a guy who is usually so astute, he was completely clueless when it came to her.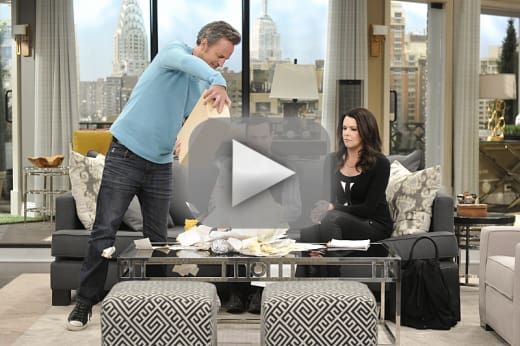 I think when Oscar's ex-wife Gabby showed up, we all kind of assumed they would end up in bed together, right? How often do we see couples ready to tear each other's throats out on TV only to see that passion being acted out in another way in the next scene? 
It makes sense, when you're with someone for a long time, it can be easy to fall back on old habits and to temporarily forget what pulled you apart in the first place. Luckily Oscar and Gabby realized that revisiting their romantic relationship would not be the best idea. At least they can be civil now and not hate each other, so that's something. 
I'm not an expert or anything, but I thought IRS audits usually only went back three years. Oscar's was five years which seemed a little odd to me. Hey, at least it turned out they were owed money instead of the other way around! Maybe Oscar should hire Felix to do his taxes every year so he's not missing out on so much money. 
Felix and Emily's relationship could be an interesting development for The Odd Couple Season 2. They have a lot in common, but they're both so over the top that I feel like that could cause problems. At least Emily can stop acting so desperate all the time now. 
It was not a bad installment for the season finale. It wasn't all that funny, but it had some sweet moments and a decent storyline. My biggest complaint was there was not enough Dani, but I did love her reaction to Felix and Emily's kiss at the end. 
There were (and have been) a lot of jokes made towards Oscar and Felix as the series' central couple, but that's what they are, and no other relationships can threaten that or the show doesn't work. What if things worked out between Felix and Emily? If Felix and Oscar aren't roommates, there's no show. 
Basically I'm wondering if it might have been too soon to put Felix and Emily together, but at the same time dragging that out longer would have been annoying. If the show hadn't been renewed, this could have worked as a decent series finale. 
What did you guys think? Will you be back next season? 
Don't forget, you can watch The Odd Couple online any time! 
Stacy Glanzman was a staff writer for TV Fanatic. She retired in March, 2019.