Aquarius Season 1 Episode 6 Review: A Whiter Shade of Pale

Elizabeth Harlow at . Updated at .
The Summer of Love is turning pretty hateful down in Los Angeles. 
Shafe may have turned to Hodiak for help with a crisis at home in Aquarius Season 1 Episode 6, but his own life is falling apart as he sinks further into the bottle. 
While no real progress was made in Shafe's drug case, and Emma is still gone, "A Whiter Shade of Pale" set up some new mysteries, with a healthy side of character development.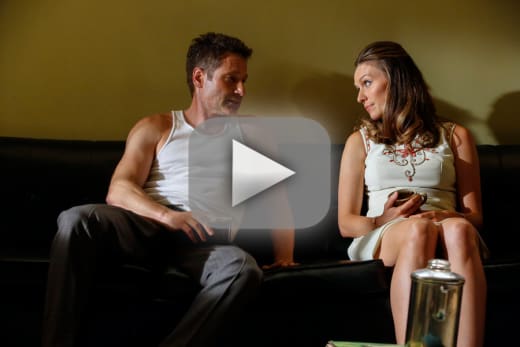 There were two crimes being investigated during this hour. Charmain attempted to take down a football player for beating his girlfriend, while Shafe's home was attacked in a racially motivated crime. Neither case was as straight forward as it first appeared. 
Poor Charmain keeps getting called in only when the department needs a woman for a sensitive issue. And then she isn't allowed to take action. Sadly, women covering up domestic abuse, especially if the man has substantially more power than she does, is still a big problem. 
Which is why I wish this story had been handled better. As it stands, this plot didn't really connect to any of the (many) other stories occurring. It's possible that it's setting up for the football player to be involved in the drug plot line later on, but for now, Charmain and her plots exist in their own separate world. 
All of which serves to make her presence come off as a token, something required by modern audiences to avoid accusations of sexism. Cutler's attitude (while period appropriate) reinforces this – she's not utilized well enough yet to offset his frequent requests for coffee. 
Cutler: Jason Elkins? The football player? Yeah, look -- guy like that -- rich, famous, handsome, gets more biscuit than a baker, what does he need to beat on women for?
Charmain: Let me talk to him, find out.
Cutler: Let the detectives handle their cause, all right, you already did your part, sweetie.
The other crime of the week was investigated off book by Hodiak. Turns out that the rock thrown through Shafe's window wasn't meant to scare him, but his neighbors. His landlord was running a blockbusting scheme to lower property values.
It had no real impact on the ongoing cases, but was an interesting look into the era. Shafe asked Hodiak to investigate, which served the duel purpose of strengthening the connection between the two detectives and freeing up Shafe to head out to Spiral Ranch. 
Shafe got to show off his upstanding morals and his smarts when he avoided sleeping with the clearly underage girl Manson provided, while still cementing his position with Jimmy Too. The dicey-ness of this could have been played up more, but it left me liking Shafe more than ever. 
Outside of work, Hodiak's drinking is causing him to make some poor decisions. Jimmy Too and Manson are both out for blood after his visit – we have to wonder who will try to get to him first. 
And his personal life gets infinitely more complicated by sleeping with Opal. It's reactionary for sure – more than about being with her, it's about finding the answers to how and why he screwed up. The fact that it helps him get back at Cutler is a bonus. 
On top of that mess, Grace continues to manipulate him. I don't think it's over conscious, it's just who she is. This time, she's after him to investigate her husband, dangling the divorce in front of Hodiak like a bone in front of a dog. She needs to know what's going on with him before she can leave.
Grace: I need to leave him, but I think that he might have done something illegal.
Hodiak: Well, he is a lawyer.

Even if she leaves Karn, I don't think she would end up with a man like Hodiak. He's a diversion, a reminder of her youth, and someone who can help her with specific problems. And she'd never take the financial step down to marry a cop.
Her self centered-ness is highlighted when she forgets that his son is missing. It turns out Walt has flown the coop after procuring a gun, and the members of the peace movement with whom he was hiding now question his sanity. 
Walt's not the only unstable man with a gun, though. Manson refuses to take the medication that Katie and the girls procured, because he was forcibly medicated in the past. His speech to Katie, along with his target practice at the end acts as worrisome foreshadowing. Hodiak better watch his back.
That's when I knew. You've got a choice. You can be afraid. Or you can be the thing that makes people afraid.

Manson
Watch Aquarius online and let us know what you thought of "A White Shade of Pale." 
Elizabeth Harlow was a staff writer for TV Fanatic. She left the organization in October 2018.