Rizzoli & Isles Season 6 Episode 1 Review: The Platform

Jack Ori at . Updated at .
I'm delighted that Rizzoli & Isles kicked off Rizzoli & Isles Season 6 with a Frankie centered episode.
Frankie's relationships with both Jane and Maura have always been one of my favorite parts of the show, and seeing him in a serious, dramatic conflict added layers of complexity that I didn't expect, especially when it started off with a typical Angela sideline about giving Frankie a free chair that everyone else thought was ugly.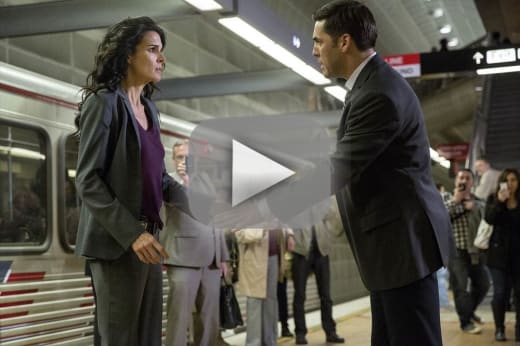 The chair, and Frankie's move into his own apartment, seemed like a set-up for a season-long arc about Jane dealing with changes in her life, especially in her relationship with her brother.
A lot of time was devoted to Frankie wanting to keep his new apartment secret until he was ready, which Jane didn't appreciate.
Yes, I have secrets. I'm allowed to have secrets. You are not allowed.

Jane
The chair even seemed symbolic of that. Jane hated it, Frankie hated it... then suddenly, at the end of the episode, when Frankie had been cleared and the gang was celebrating at his apartment, Jane revealed feelings for that chair!
I can't believe how much I like this chair!

Jane
This was a good direction to go in, especially when juxtaposed with the bigger picture: did Frankie shoot an unarmed man or not? Within the first 15 minutes, Rizzoli & Isles Season 6 Episode 1 very quickly shifted gears to this compelling story.
I didn't see the shooting coming until it actually happened, much like how these things happen in real life, which added to the drama.  
Everything about the shooting sequence was perfect, especially not knowing exactly what happened any more than Frankie did.
As the story unfolded and evidence started mounting against Frankie, it was hard not to question whether or not he had made a mistake after all. We only had Frankie's word for what happened, just like the detectives, and it wasn't clear whether he was remembering properly or not.
I was chasing that Spike guy, he ran into a whole group of people, and then all of a sudden that other guy was pointing a gun at me.

Frankie
Also brilliant was the way the shooting overshadowed everything else the detectives were doing. They were supposed to be continuing to work on solving Mona's murder, but that sort of took a backseat until Jane realized that she could investigate the shooting as part of investigating the murder.
I'm a sucker for stories of Internal Affairs vs. regular cops, even though they often tend to be stereotyped, so I found adding that element to be very enjoyable.
By far, though, my favorite part of this storyline was Angela's staunch support of Frankie. Angela's so often portrayed as a bumbling mother figure who is trying to find her way in the modern world.
It was nice to see her in a strong supportive role here, encouraging her son when he was at his lowest.
I know you and I know Jane, and you don't just shoot people for no reason.

Angela
Despite the serious subject matter, there were no shortage of funny moments, especially surrounding Maura's new intern. Kent Drake is apparently only doing a rotation in the ME's office for six months (I missed that until Maura said so to Vince), and for Jane it was hate at first sight, or at least upon hearing his name.
Tall, dark, handsome. His suit is too big for his body (because his superhero suit is on underneath it.)

Jane
I was confused before we found out Drake is an intern and thought they were talking about Maura's newest love interest. I wouldn't be surprised if they went that way later this season, considering the way Maura reacted to Drake's new look at the end of the episode.
Drake's sensitivity and sadness over the murder victim's death surprised me and made me curious about where they're going with his character.
What was your favorite scene? Did Frankie's new chair seem comfortable to you? Share in the comments below!
Did you miss something? Watch Rizzoli & Isles online to refresh your memory or revisit your favorite episodes.
Jack Ori is a senior staff writer for TV Fanatic. His debut young adult novel, Reinventing Hannah, is available on Amazon. Follow him on Twitter.