Rizzoli & Isles Season 6 Episode 2 Review: Bassholes

Jack Ori at . Updated at .
Love is a many splendored thing, or so the sonnet goes.
After watching  Rizzoli & Isles Season 6 Episode 2, it seems that love can also be found in the strangest places.
And, of course, unrequited love makes people do bizarre things, like murder their lovers.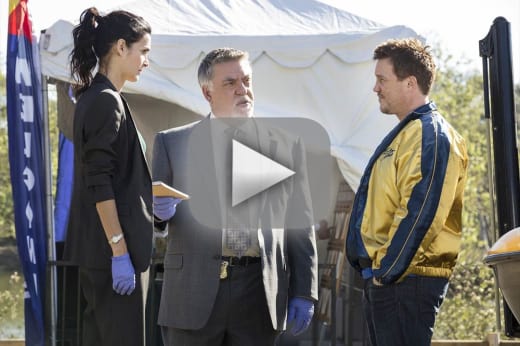 The case of the week gave Jane and Maura the chance to showcase their usual quirkiness. But even though on the surface it seemed like a weird case about a dead bass fisherman, it actually was a love story.
I didn't realize it when we first met the victim's wife, Carla, though I should have. Her reaction to being asked if her husband had been more than friends with another woman gave it away.
We were separated when they met, so if they were something else, that's okay. It doesn't matter now. None of it matters now.

Mrs. Harris
The how and why of the end of Mark and Carla's relationship drove the point home. Mark was heartbroken when he didn't get tenure and became obsessed with fishing – a sport he knew nothing about and had no business devoting his life to.
Yet in the end, he came to his senses and was going to forget fishing and return to his wife. It was almost as if he was a fishing addict who realized what he was about to lose.
For once, the back story behind the murder made the show. I really felt bad for Mark, who didn't belong in the world he'd found himself in. There were plenty of people who resented him enough to kill him because of his supposed success in that world
.
Friends? Are you kidding? He combs our lakes. He takes our fish. He takes our women.

Fisherman
Were you surprised that, in the end, it turned out to be his lover Linda who killed Mark? I was, though it made sense once it was revealed. There were too many fishermen who hated him for any one of them to have killed him.
Mark was a poetry professor, which meant he probably dabbled in love, beauty and heartbreak more than in racing to catch more fish than anyone else. For him to be killed by a lover was very fitting.
I liked the juxtaposition of this weird story with Jane and Maura's actual love stories. I'm not so sold on the idea of Skeet and Jane actually becoming a couple, only because I think it sends the wrong message.
Skeet relentlessly pursued Jane, and then finally got her. I'd prefer a TV world where Jane's no meant something. I also thought it was weird that Skeet sounded so much like Maura when trying to convince Jane she was attracted to him.
That aside, Skeet turned out to be somewhat romantic, and definitely quirky, which may be just what Jane needs to get over the double heartbreak she suffered last year.
A toast to Jane who I will always be thinking about when I am in my boat.

Skeet
Skeet re-christened his boat after Jane. How cute is that? 
While all this was going on, there were a couple of disappointingly silly subplots. After seeing Frankie knock a dramatic story out of the park on Rizzoli & Isles Season 6 Episode 1, I was sad to see him spend most of this hour walking around with a sack of flour. I realize he was supposed to be comic relief, but this just seemed like such a waste.
Angela's newest diet was better comedy. Angela's always trying new things and giving them up just as quickly. I enjoyed Jane's disappointment in the very bare cupboards that came with her mother's newest obsession.
Angela: I'll bring you a snack.
Jane: Chocolate cake. Well...it's not white.
Of course, by the end, Angela had given up and sacrificed Frankie's latest flour baby in the process, something nobody objected to. The healthy eating nut in me hated that, but I was pretty glad to see these subplots go.
What'd you think? Are you inspired to go on a new diet or buy a boat after watching "Bassholes"? Did the show's signature quirkiness satisfy you, or do you prefer more dramatic installments?
If you missed something, don't worry! You can watch Rizzoli & Isles online and catch up.
Jack Ori is a senior staff writer for TV Fanatic. His debut young adult novel, Reinventing Hannah, is available on Amazon. Follow him on Twitter.