Rookie Blue Q&A: Missy Peregrym Talks Obstacles, Bloopers and Live Tweets

Christine Orlando at .
Our summer TV lineup just isn't complete without Rookie Blue. 
Fortunately, we recently had the opportunity to chat with the Missy Peregrym about her character's growth, the obstacles facing Sam and Andy, where she'd like to see the show go next – and Ben Bass' most embarrassing moment. 
Read on to find out when Missy will be live tweeting and don't forget to tune in to ABC tonight for the premiere episode. 
(Warning, the following contains mild spoilers for the premiere episode)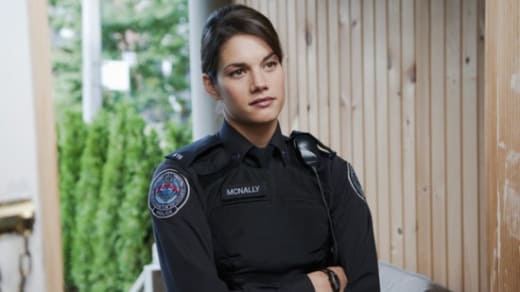 Andy has to fight off an attacker in this upcoming episode. How much of that is you and how much of that is a stunt double?
My stunt double's name is Bernadette. She was the one who was doing this. You really kind of…let me try and remember what happened here. I would say it's like 50/50. I really flipped over the chair backwards and landed. I really was obviously grabbed and stuff. The middle part was her going over the couch and under the table. That is not me. I try to do as much as I can. Whatever I'm allowed to do, I love it. I like the challenge of doing the physical stuff, as well, but it's also not worth getting hurt and then being in pain for two weeks because of my competitive nature. 
We spoke at the start of Rookie Blue season 4 and you said that Sam and Andy had amazing chemistry but that chemistry isn't enough to make a relationship sustainable. Is that an issue we'll be running into the rest of this season?
No, because I think that we've grown past that in season 5. It's not about the chemistry. They made a choice to really work on communicating and committing to each other on a deeper level and having more intimacy. It's more than chemistry. I think the issue here, definitely for Andy, she doesn't know her place anymore. She doesn't really know what the right thing is to do with her relationship with Sam because of the baby. 
It's very different. We've just kind of grown to the point of, this is it. We're happy, and we've gotten to that place where we feel very comfortable with each other and trust each other. We've put the work in, and all of a sudden this situation kind of blows them back. It's not about their love for each other. That's not the issue. It's about what's best for this kid, what's best for families. What does family even mean? Andy struggles. Almost the whole season, she really just has a ride with that and figuring out where she stands and if she can do that. 
Are you happy with the direction that Andy's story has taken over the course of the show and is there anything specific you'd like to see for her in the future?
I've really enjoyed playing her every season. There's always something new that she's dealing with, and we've kind of covered a lot of personal issues. Being engaged to the wrong guy and him cheating on her and dealing with that. Having chemistry with somebody. Dating somebody who is a great and trusted friend. There's been a lot of work things that have happened and challenged her and she's had to push through which has been very defining.
This is where I feel very happy to where we're headed, I think that if there's anything that I look forward to it's actually having a family with Sam, herself. Being able to work through and portray what it would be like, and ultimately show what it's like for police officers with families and the issues that they come up against.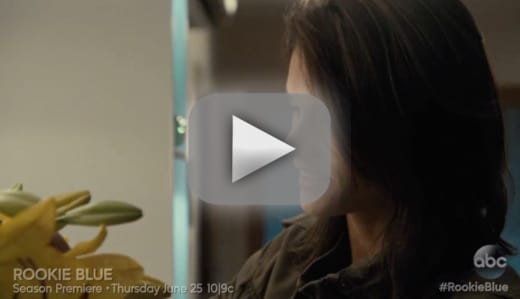 Once again the show started airing a month earlier in Canada than it did here in the States. Does that ever make things difficult for you when talking to fans?
Yeah, I'm really quiet out of respect for the American fans, because that sucks. I'll do interviews, and I'll try to speak very…I really didn't do very much for the Canadian side this year. I only did a couple of things, but I think it's really important to try and preserve it for fans who can still be able to watch the show and have their own journey. Now that it's coming out this week, I'll do a live Tweet session. I feel like with Canada already further ahead, now everybody can kind of be on board.
Obviously I'll still be careful with what I'm saying if there's questions about the rest of the season, but it really worked out better than I thought it would. I was way more nervous about it. I think last year was the first year we did it and we weren't sure how to promote it or how far to go with the discussion but I think it's a little bit easier now. It doesn't seem to affect anything, anyway. People still want to tune in. My answer to what happens next doesn't fill the void of wanting to see those characters go through it. 
So you will be live Tweeting the premiere this Thursday night?
Yeah, the Pacific time zone. 
(Missy Peregrym's Twitter handle is @mperegrym)
So is this officially the back half of season 5 or the start of season 6?
Ha. I don't know. There's two titles for it. All I know is that there's 11 episodes coming up. 
How many seasons do you see the show running or would you like it to run?
I have no idea. It's such an interesting place to be, and I'm so happy to be in it. I've already invested six years of my life on the show. I love the people I work with. I think it would be pretty exciting to see how far it can go. It would be a rebirth because obviously we're not going to be rookies forever. If it works, I think it's so rare these days that shows go on for a very long time. I'm excited that we have this opportunity. I can't really say how I'd like it to go. I have no idea where I'll be, ever. I'm happy for right now. I'd be really happy to go back.
If you could pick your dream role, movie or TV, what would it be?
I have no idea what that looks like because I kind of like what I'm doing now. I love that it's still athletic and it's kind of tough, but I like that there's vulnerability and sensibilities in this show. I'm kind of in the dream role when it comes to working as a team with the people that are on board. That's a very rare thing. I don't know. I've always been very happy with where I am and what I'm doing. Kind of when a project ends, depending on where I am in my life and what I relate to, I kind of just find the next project that suits where I'm at. 
What can you tease fans about the rest of this season. Any big cases or surprises coming our way? What can we expect?
I can tell you that Marlo and Dov are working on the Evidence Room bombing, and we're trying to figure out how this even happened and that's going to be a threat that goes throughout the season. There's somebody inside 15 Division, so it's basically finding out who that person is.
I know you're a soccer fan. Have you been following the women's World Cup? 
I have been following, but I haven't been able to watch yet. I'm actually going to be watching the Canada game this Saturday against England. And I really hope it will be Canada versus America, because this is going to be a great trash talking scenario for my friends. 
What's been your favorite or most memorable experience on the show so far?
This last year one of my favorite ones…so Ben (Ben Bass who plays Sam) is a perfectionist, he's very serious about his craft. He is incredibly thoughtful, and he does a lot of work and it shows. He's really talented. But this one day we came to the set, and we had this huge scenario where we had to go into this house. It's this big scene where we had all these cars pulling up, everybody running out, getting to the front door of the house and it's a lot. You don't have a lot of time to do this and everybody's got to hit their marks. Anyway, he drove up, and he got out of the car, and he ran to the front door, but he forgot to put the car in park. And so it just rolled down into the other vehicles.
I loved every second of it. I couldn't stop laughing. If that take was usable, I ruined it. It was one of my favorite things that happened, but mostly because Ben died inside. It was kind of awful that I was really happy that that happened. I was like, Dude, that could have happened to any of us. Any of us could have done that. But he was just, he was great about the whole thing, but I just love when everything goes wrong like that. I think it's hilarious. 
Hopefully that will make a blooper reel somewhere.
Yeah, that's one thing we definitely should be having on this show because we have so many stupid things that happen. I wish we did that on the DVDs, which I've never actually checked, but we would probably have some of the greatest bloopers. 
Don't miss out. You can watch Rookie Blue online right here at TV Fanatic. 
C. Orlando is a TV Fanatic Staff Writer. Follow her on Twitter.