The Whispers Season 1 Episode 1 Review: X Marks the Spot

Allison Nichols at . Updated at .
With a name like Drill, it would have been surprising if the game he played wasn't creepy.
In The Whispers Season 1 Episode 1, the creepiness factor is at a critical level. Although, when a show features little children and imaginary friends that play weird games, it isn't hard to be creepy. There's something about a show full of twists and turns that gets you hooked. The premiere sets up some intriguing mysteries.
Drill is definitely an alien, right? He has a connection to Sean's plane that was grabbed out of the sky by lightning. He can somehow turn on computers, cause the lights to flicker, and communicate through toys. He's electric or at least in tune with electricity. The only other guess is a poltergeist who wants revenge on the government for some reason. What's your theory?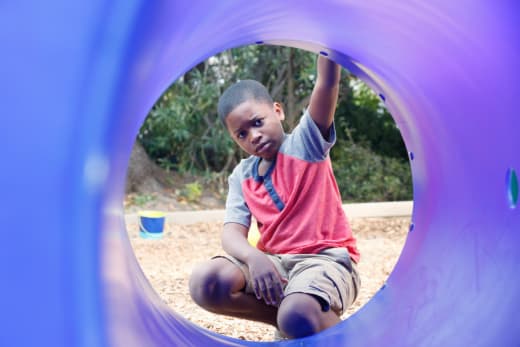 Right now, it's hard to understand how Drill's game will lead to domination, as Harper claimed Drill said it will. All that is clear is that Drill's targets/friends have a government connection. Harper seemed to draw the President with his throat slit, which is such a happy picture for a six-year-old to draw. If Drill is an alien, how does killing the president lead to domination? Maybe Drill plans to replace the President somehow or his death will lead to Drill's people invading the Earth? Why can't Drill just want the world to be full of unicorns and magic?
Harper won her game by causing her mom to almost die and end up in the hospital. This caused her dad, who works for the government, to come home. Minx has been summoned to play the game as well. She hacked her dad's computer and logged into the Department of Defense. Minx's game makes a lot more sense than Harper's did, unless Drill wanted Agent Claire Bennigan to get involved. 
Jackson, the kid who lost the game, doesn't fit the pattern. All the other kids have the government connection. There wasn't much time spent on Jackson's background, but something had to make him attractive to Drill. If we can figure out how Drill selects the players, then we can figure out the endgame.
For children with imaginary friends, these connections are sacred.

Claire
It would be really great to have one of the kids explain why they went along with Drill's game. If this was an innocent game of duck, duck, goose, it wouldn't be weird if kids decided to play. Jackson's mom said at some point, Jackson realized that this wasn't a lighthearted game, but he was also older than the other kids. Hopefully this will happen as more kids meet Drill. 
In addition to having a government connection, most the key players have a personal connection as well. Claire has begun investigating Drill and Harper's case. Her presumed dead husband is Sean aka John Doe, who has a weird connection to Drill. Now, Claire and Sean's kid Henry has become friends with Drill. Claire also had an affair with Wes Lawrence. Wes discovered Sean's plane and the petrified lightning in the Sahara. Wes's daughter Minx is one of Drill's friends. Wow, this is too much of a coincidence to ignore. Drill seems to be tapped into the town gossip.
Let's try to figure out Sean, shall we? When he first showed up, he clearly was not in good shape. He was frantically scribbling down Minx's name on a sheet of paper. Somehow, Sean knew who Drill was communicating with. Maybe the plane crash caused Sean to be able to hear Drill, like he is on Drill's frequency. The question is, does Drill want Sean to be involved or did Drill somehow cause Sean to lose his memory because he knew too much?
What did you think of The Whispers? Will you be tuning in next week for The Whispers Season 1 Episode 2? Remember you can watch The Whispers online any time via TV Fanatic.