Major Crimes Season 4 Episode 6 Review: Personal Effects

Jack Ori at . Updated at .
As the Billy Joel song goes, "It's a matter of trust."
This week, Provenza grappled with trust issues in his personal life, while one woman's inability to trust her husband might have contributed to murder on Major Crimes Season 4 Episode 6.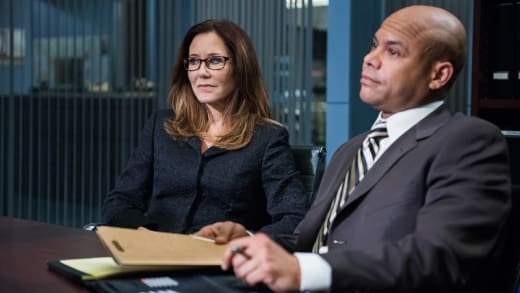 "Personal Effects" was more a whydunit than a whodunit. But was Tate Harrison really killed because Mallorie Greggs didn't trust her husband and young son enough?
Essentially, this is one of those stories where there are no winners, no matter what the outcome. The victim, Tate Harrison, was undoubtedly a bad guy. Early on in the hour, one of his victims described how horrific his drug-enhanced rape of her was.
I focused on the air freshener swinging from the rearview mirror. It smelled like vanilla.

Victim
And that was just the beginning of Tate's crimes. He stole from his brother while claiming to want to make amends from him. He allegedly embezzled money and blamed a co-worker. He raped more than one woman in the same manner.
Tate was the kind of victim cynical cops like Provenza hate to deal with, because too many people want him dead for too many reasons. In the end, the DA concluded that the man died of his killer's inability to trust her husband with the truth, but that truth was horrific. Tate raped her years ago and her son was conceived as a result of that rape.
When Tate realized the child was his, he wanted visitation rights. So Mallorie Greggs gave him a dose of karma in the form of a drugged drink, then shot him.
Was it really because she didn't trust her husband to know that his son was the product of rape by another man, or was it because she wanted to get the justice she never had for herself and her family?
Either way, I felt sorry for Mr. Greggs. He really knew nothing and was shocked when his young daughter blurted out that she recognized Tate's picture. He probably thought his wife was having an affair, which could explain why he was in such denial that his daughter was telling the truth.
My daughter is seven. She thinks she's a mermaid!

Greggs
As a result of being kept in the dark, Mr. Greggs was arrested and accused of murder. Whether his wife will tell him the truth now that she's free is anybody's guess. And what will happen to their son if he ever finds out the truth about his parentage is also up in the air.
While this was going on, Provenza struggled with a seemingly less important issue: he wanted to hold onto his stuff, and his new girlfriend wanted to get rid of some of it. This could have very easily ended up being a silly subplot, but it worked perfectly.
The real problem was lack of trust. Rusty astutely pointed out that starting a relationship with a lie is never a good idea, but didn't have the experience to understand that relationships are tricky and people sometimes have to make contingency plans.
Rusty: So you're starting off your new relationship with Patrice by lying to her?
Provenza: I won't be lying to her. You will.
Normally, I would be aggravated that there was no movement on the Rusty investigation front (other than a throwaway line from his friend TJ), but I thought using him as Provenza's unwilling accomplice was effective.
In Major Crimes Season 4 Episode 5, Rusty struggled with the question of keeping what he knew about Alice secret from Sharon. Surely those concerns were tied in with his questions about Provenza's keeping secrets from his girlfriend.
Keeping secrets from the people we love makes us seem untrustworthy, doesn't it?

Sharon
I'm curious about TJ. Is he a friend or more than a friend? More importantly, is he actually on Rusty's side, or does he have some secret agenda related to Alice?
What did you think? Do you agree with Buzz that Provenza's duck lamps should never see the light of day again? Are Provenza and Patrice a match made in heaven? Were you saddened that the cops couldn't charge Mrs. Greggs even though they knew she was guilty of murder? Discuss below!
Did you miss an episode? Watch Major Crimes online and catch up!
Jack Ori is a senior staff writer for TV Fanatic. His debut young adult novel, Reinventing Hannah, is available on Amazon. Follow him on Twitter.