Masters of Sex Season 3 Episode 1 Review: Parliament of Owls

Amanda Steinmetz at . Updated at .
It's been a long 12 years of research, but Bill and Virginia are ready for the release of their book.
Masters of Sex Season 3 Episode 1 opened up in the year 1965 where Bill and Virginia got ready to hold a press conference for their book. 
While the tense scenes during the press conference were terrific, it was the flashbacks to four months prior that were the most illuminating.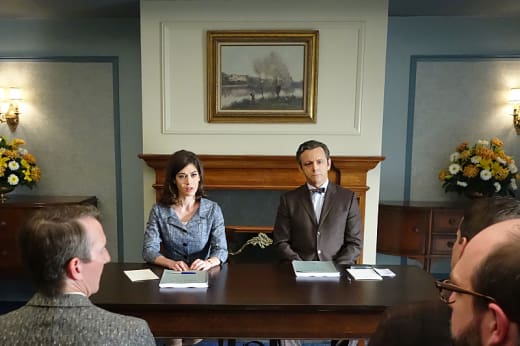 The weekend at the lake was a great way to get everyone in the same place to catch us up to speed on how relationships have developed. Virginia and Bill have continued their relationship the way it's always been. They work together, they sleep together, but are not "together." 
Virginia's relationships with both of her children have become strained over the past few years. While Virginia's response to catching her son having sex was awkward and hilarious, his decision to enlist in the army left her devastated. 
Then there's her daughter, who's trying to grow up way too fast. Tessa's scenes with Bill were beyond uncomfortable. I knew something was going to happen, but thankfully Bill shut her down quickly after she kissed him.
I'm worried for Tessa. I don't want to see her find herself in a situation that is too much for her. She may think she's ready to grow up, but I think she'll be unprepared when that day comes.
Bill's relationship with his son, Johnny, was tough to watch. The relationships between fathers and sons during this time period were not the most affectionate. Now throw a man like Bill Masters into the role of father, and watch a man deeply out of place. 
Johnny's outburst after witnessing Tessa's kiss with Bill made me nervous. I feared Bill would lash out at his son for destroying the book pages, but he stopped himself and got control of his anger. 
While Virginia's children may not be in the best place at the moment, I'm more worried for the futures of Bill's children. They are growing up in a household where there is no physical love between their parents.
You never kiss Mommy, and then you kiss Tessa. Why would you even do that, you freak?

Johnny
Johnny may be young, but he knows his parents don't have a normal relationship. How will Bill and Libby's marriage affect how their children view relationships, love and marriage as they grow up?
It doesn't help that Libby's mindset is so sad and defeated. Her scene with Virginia in the bed was by far the most heartbreaking moment of the episode. 
Libby has been struggling to hold herself together for her children and has been taking medication to get through each day. This poor woman has been stuck in a loveless marriage for years, and she lost the only man she with whom found passion.
I think that a heart can only be broken so many times, and then it's done, and I think that I'm done. I'm okay with that. I am. As long as my home and my family stay intact. I need that for my children's sake.

Libby
It's terrible to see hear her say that it's over for her. 
Even her hope to keep her family intact is misguided. She may keep her family under the same roof, but her children will be affected no matter what. Sometimes keeping the marriage together for the sake of the children will do more harm than good in the long run. 
I'm glad to see Libby and Virginia have remained close, but it's depressing to see how Libby has resigned herself to this life. 
Now let's get to the press conference. The reactions by some of the press threw them. I found this surprising just because they've come across so much opposition and fear regarding their study. 
Thankfully the journalists seemed to come around in the end, and they should get some great reviews. 
We are the sexual revolution.

Virginia
Bill's observations of Virginia throughout the press conference had me confused at first. When he finally confronted her and told her she was pregnant, I was thrown. Then re-watching the episode, I saw the hints dropped all over the place. 
What will this pregnancy mean for their relationship going forward? Will she even want to keep it? 
It can't be Bill's, right? I think Virginia's visit to see her ex-husband during the weekend at the lake may have gone further than we got to see. 
My only complaint is that no one's appearance seems to be changing with the passing years. Bill, Virginia and Libby don't look a day older than when we first met them. There have been some tweaks to their appearance here and there, but not enough to make them look older. I know that aging makeup is a lot of work to do, but they should do something. 
So over to you guys! What did you think of season premiere? Do you think the book release will go smoothly, or will they face more opposition? Who's children are you more worried about right now, Bill's or Virginia's? Will Libby sink further into depression? What are your predictions for Masters of Sex Season 3 Episode 2?
Sound off below, and don't forget you can catch up on any missed episodes when you watch Masters of Sex online via TV Fanatic!
Amanda Steinmetz was a staff writer for TV Fanatic. She went into retirement in June of 2027. Follow her on Twitter.