Virginia's unplanned pregnancy threw everyone for a loop, but her decisions afterward set up new dynamics going forward. 
On Masters of Sex Season 3 Episode 2, Virginia's pregnancy (with George's baby!) changed her relationship with not only Bill, but her relationship with George and Libby.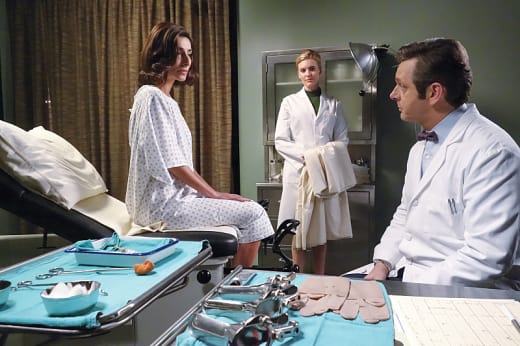 Virginia's decision to keep the baby surprised Bill. Her desire to fix, or redo, motherhood influenced her actions. Her need to be a good mother is understandable, but Virginia sometimes sounds desperate to be something she's not.
I'm not saying she doesn't have the capability of being a loving mother. We've seen her do that. Still, her desire to succeed at work has fueled her fire for all these years. 
Her confession was heartbreaking, but Bill was right there to keep her calm.
What if that is just the simple truth of it? That I am a woman incapable of putting her kids before her work.

Virginia
As much as Bill thinks he was helping her, his words of comfort were two-faced. On some level he thinks she is doing more for her kids by doing important work. Still, it benefits Bill if Virginia continues to focus on their research. Bill gets to maintain the work and personal relationship he has with her. 
Bill needs Virginia around because she's become crucial to the fabric of his daily existence. Bill is a man who likes order and routine. By his own admission, he is fueled more by desire and respect than he is by his family. Virginia gives him something to look forward to. 
If only Bill could "need" Libby like he needs Virginia. The poor woman freaked out over Virginia's pregnancy because of what outsiders might whisper and speculate. 
Virginia's decision to have a sham marriage with George does nothing to change Libby's marriage with Bill, even though she's convinced herself it will. 
Don't you want to give your kids a real family? Two parents under the same roof having dinner every single night. I know I want that for my kids, and if you had it too, wouldn't that just solve everything?

Libby
Virginia marrying George won't change Bill's feelings abut Libby. Bill will still lust after Virginia. I doubt Virginia would be monogamous with George since she's not in love with him. Libby's marriage will most likely continue to be loveless and passionless. Not to mention the fact that Bill doesn't feel comfortable in the role of father. 
His discussion with the Shah's wife was a little too heavy-handed since it, so obviously, related to his situation with Virginia. Virginia will now have another life-long connection to George that Bill cannot compete with.
Only time will tell how Virginia deals with her marriage, but it's clear that George would like them to love each other once more. I'm not a huge fan of George, but his disappointment was understandable. 
Virginia: You'll find someone, George.
George: Another irony: my bride, on our wedding day, encouraging me that there are other fish in the sea.
George would love to try and be happy with her again, but Virginia is convinced there is too much damage to repair. I'm fascinated to see how their relationship changes going forward. Will Virginia develop feelings for him again? 
Maggie Grace was brought in to take Virginia's place while she was on leave, but I didn't feel like we got to see enough of her to have any impact. Her appearance wasn't as moving as the high-profile couple Bill treated. The Shah's wife's speech to Bill related not only to the whole Bill-Virginia-George situation, but also the Bill-Virginia-Libby one. 
If three's company is already too crowded, just think what will happen now that a fourth person is involved. 
So over to you guys! What did you think of the episode? Will Virginia and George fall back in love? Will Bill and Virginia continue their personal relationship along with their professional one? What are your predictions for Masters of Sex Season 3 Episode 3? 
Sound off below, and don't forget you can catch up on any missed episodes when you watch Masters of Sex online via TV Fanatic! 
Amanda Steinmetz was a staff writer for TV Fanatic. She went into retirement in June of 2027. Follow her on Twitter.