Rizzoli & Isles Season 6 Episode 4 Review: Imitation Game

Jack Ori at . Updated at .
Family members can really be a pain in the butt, especially if their last name is Rizzoli.
Whether they're insisting you fix plumbing that's older than you are or putting their nose into your love life, they can ruin your day like nobody else.
That's what Angela and Frankie discover the hard way in  Rizzoli & Isles Season 6 Episode 4. Oh yeah, and there's an interesting case, too.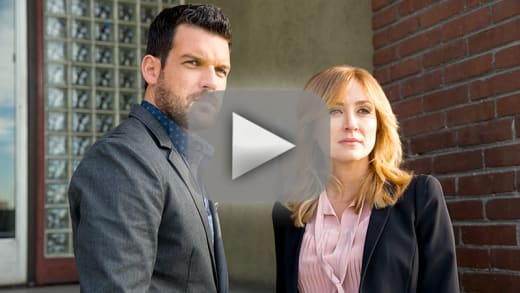 I was really psyched about the sidelines in "Imitation," especially Frankie's storyline. For once, Frankie wasn't doing something completely ridiculous.
On Rizzoli & Isles Season 6 Episode 3, he had nothing better to do than put a live lobster in Jane's desk. This time, however, he had an important job to do. He had to fix the plumbing in the Dirty Robber.
Listen. A Rizolli man screwed it up. A Rizolli man's gonna fix it.

Angela
While this might seem like a sitcom-worthy plot, I liked it because it was about more than just the plumbing. Somehow, the messed up pipes became symbolic of Angela's relationship with Frankie and Jane's father.
Frankie had the chance to express some resentment while ranting about having to fix the mess his father made. This actually added depth to his character rather than turning him into a silly, one-note joke.
The brother-sister relationship between Jane and Frankie was back this week too, and their reactions to the suspect's suicide at the end were interesting. Frankie made a silly pun, while Jane took it more seriously.
I like it when we end the investigations, not the bad guys.

Jane
I wondered if some kind of crisis was coming for Jane later in the season, but maybe I'm reading too much into her remark.
Angela's sideline was less interesting this week than Frankie's. I was curious about her new boyfriend, but not really enough so to be disappointed that all we learned about him was his first name. Was anyone else surprised that she wasn't secretly dating Vince?
When he approached her at the bar, I was expecting his comments about her privacy to turn into a flirtatious reveal!
Even though Angela's boyfriend turned out to not be the big deal I expected, it does seem that the dynamics of her relationship with Jane are going to continue to be an issue this season.
.
Angela: Why do you need to know everything?
Jane: Why do you have a secret chicken friend?
I wonder if Jane and/or Maura will end up moving out by season's end. It seems Angela is feeling the effects of too much togetherness lately.
In between the family drama, of course, we had this week's case. This was one of the more interesting and complex stories this season. The murder of the week ended up being somewhat beside the point, as the investigation led to the chase for the forged painting.
I enjoyed seeing Suzie get to use her art history knowledge to help identify the actual painting underneath the forgery. Suzie is a perpetually underused character, so seeing her in this capacity was interesting.
This episode was more dark than quirky, which provided a nice change of pace. I was surprised the museum director's big secret was that his security system was out of date.
Museum Director: I wouldn't say obsolete.
Jane: Oh please. The cameras are so old they should be on display.
So what'd you think? Were you inspired to take out a paintbrush or do some home repair after watching "Imitation"? Share your thoughts below!
Missed something? No problem! Just watch Rizzoli & Isles online to catch up or refresh your memory.
Jack Ori is a senior staff writer for TV Fanatic. His debut young adult novel, Reinventing Hannah, is available on Amazon. Follow him on Twitter.