Rizzoli & Isles Season 6 Episode 5 Review: Misconduct Game

Jack Ori at . Updated at .
First Frost, now Suzie.
Rizzoli & Isles has had its share of deaths. While Frost died in a tragic, off-screen car accident, Suzie was murdered by a wealthy politician who dreamed of becoming governor.
Rizzoli & Isles Season 6 Episode 5 was a tearjerker, for viewers as well as for Jane, Maura and Frankie. Throughout the hour, the characters struggled with grief and doubt. Did you?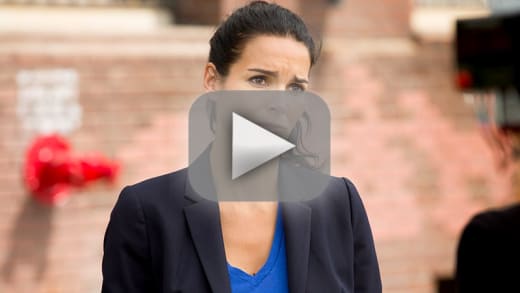 It's always interesting when a character's job becomes personal. Suzie's death was especially traumatic for her friends because of the suggestion she was tampering with evidence in exchange for money. If she was a stranger, the detectives might have taken this at face value.
But this was Suzie, who they knew, or thought they knew. Seeing everybody struggle with the way their friend had become a victim was dramatic and moving.
Suzie. Her name was Suzie.

Jane
Only Vince seemed able to separate himself enough to treat the case like any other. I thought he and Frankie were going to come to blows over Suzie's integrity!
We have to treat this like any other case. Dig into Suzie's life and find out who had a reason to hurt her.

Vince
As the evidence mounted, did you have any doubts about Suzie? I wasn't sure which way this was going to go. Either way would have been upsetting. Seeing Frankie and Maura, two of Suzie's biggest fans, go from total faith in her integrity to asking whether she could have been dirty, was really effective. Her friends didn't know, and neither did we.
I also really liked that Angela came to the rescue several times. I've had enough of silly Angela to last a while, so seeing her in a more important and dramatic role was a welcome change.
I especially liked her reminder that her kids did know their friend, no matter what the evidence suggested.
You can know someone without knowing everything about them.

Angela
Of course, as it turned out, Suzie wasn't involved in any illegal activities. Her body was moved and she was framed after death.
I liked the tie-in with Rizzoli & Isles Season 6 Episode 4. The non-resolution of the art forgery and murder case was frustrating both for Jane and for many viewers, so it was nice to see some loose ends tied up here. It also made it that much sadder. Suzie was instrumental to finding out what was going on in that case, and apparently it killed her.
"Misconduct Game" didn't have as much humor as Rizzoli & Isles usually does, and I was okay with that. Some stories are just too dark for quirky jokes and silly sidelines. There were a few lighter moments, such as Vince chasing after the garbage truck and begging the driver not to let anyone get rid of the trash just yet.
Which one are you supposed to be? Starsky or Hutch?

Driver
I have to admit I was surprised by Langdon having anything to do with the murder. I barely remembered him from the previous part of the forgery case, and I thought his motive was a bit weak. Surely someone with as much money and influence as him could find a legitimate way to raise money to run for office even if his wife didn't want to help.
Were you a Suzie doubter or a Suzie believer? Did you cry at all over her death? Share your thoughts in the comments below!
Miss an episode? Watch Rizzoli & Isles online to catch up!
Jack Ori is a senior staff writer for TV Fanatic. His debut young adult novel, Reinventing Hannah, is available on Amazon. Follow him on Twitter.