Under the Dome Season 3 Episode 6 Review: Caged
Paul Dailly at . Updated at .
Does CBS think we're also high on the gel from the cocoons that seems to have everyone following the orders of an alien?
On Under the Dome Season 3 Episode 6, we got some much-needed insight into what Christine is really up to, and I can only hope we've seen the back of her. Shouldn't Sam be some sort of expert at killing by now? Considering he's clued up on medical things, I refuse to believe that he merely wanted to stick the knife in her without harm.
Christine had the knife coming to her. She's been nothing but annoying ever since she showed up back on Under The Dome Season 3 Episode 1. Whatever she's up to, there were many hurdles thrown her way this evening. It's good we finally got the truth about the dome going up.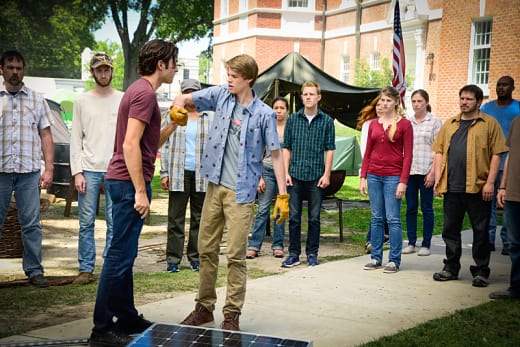 So... the egg is going into people? That sounds wrong, but hey, this is Under The Dome. My main complaint with Christine and Eva is that they just appeared out of nowhere and the town is falling at their feet. 
Something isn't right with Joe and Norrie not taking Eva, Junior and Christine's orders. At this stage I'm ruling the dome out of any of the blame. The dome has been used as a plot device a little too many times. People need to be blamed, not a stupid, freaking dome. 
This town's come so far. Most have completed their journey. Others have come so far. What about Joe and Norrie?

Eva
Would anyone have bat an eye lid if Hunter actually went the way of the flip phone? Like, he brings nothing to the show apart from eye candy and is just going to get between Joe and Norrie. It sucks that he won't walk again, but I ain't buying it. 
It was a bit extreme for Eva or whatever is in her body to decide to kill him. The fact she mentioned the resources needed to care for him makes me think this dome is here for the long haul. See ya in Season 6 y'all. No, seriously. Give us some solid progression before I pull what's left of my hair out. 
The scenes involving Jim and Christine caged up were interesting. These two characters vie for power, so having them both locked up and throwing words at each other was quite entertaining to watch. I don't think anyone believes a word that comes out of Christine's mouth, and neither does Jim. I'm really enjoying Jim's love for his dog.
If Julia wasn't in the mix with him right about now, he'd be all alone. These two are probably the most shocking pairing in the show's history.
You know, I can handle good, and I can handle evil, but what I can't handle is desperate. You're in a position to tell me whatever I want to hear, but I ain't buyin'. No hard feelins.

Jim
"Caged" wasn't an excellent installment of the show, but it was nowhere near as bad as some of the earlier ones we sat through. I hope Eva/Junior/Egg return to their own bodies soon before this storyline gets even more long in the tooth.
Other tidbits from the episode:
Does anyone even care that Barbie is still barking up the Eva tree? Like, these characters are so badly written that I don't care for them anymore.
Why is the show still claiming that the dome came down three weeks ago? It didn't. All of this stuff hasn't happened in three weeks. If that's the case, then why has everyone not gone bat shit crazy because of all the close ones they've lost? 
Why did Eva's shadow look like a Nintendo 64 game? So many questions, yet few answers. 
The show tried to copy The Hunger Games with those damn noises. Just stop it. Copyright is a thing. 
Remember you can watch Under the Dome online right here on TV Fanatic. Get caught up on the drama now. 
Note: Under The Dome Season 3 Episode 7 airs Thursday July 31 at 10/9C on CBS.
Paul Dailly is the Associate Editor for TV Fanatic. Follow him on Twitter.