Castle Season 8 Spoilers: Beckett's Big Decision ... Revealed!

Christine Orlando at .
At the end of Castle season 7, Kate Beckett had some decisions to make. She could remain a detective at the 12th precinct, take a position as Captain or jump into politics with a state senate run.
Well, if you just can't wait until the Castle premiere two-parter on Sept. 21st, then check out what co-showrunner Alexi Hawley had to share at the Television Critics Association Summer Press Tour this week...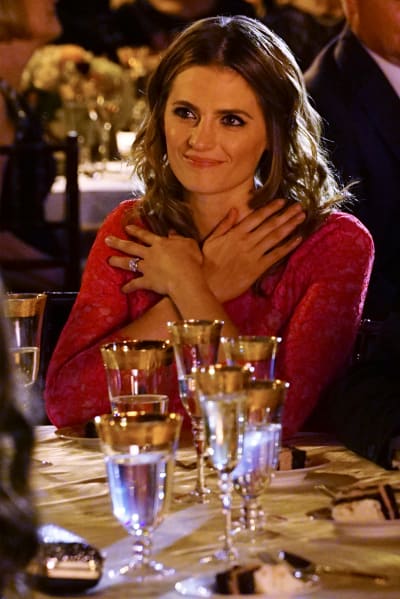 (Spoiler Alert!) The 12th precinct's top detective is now Captain Kate Beckett! 
"The show has been doing a great job with what's its been doing, but now we've been given an opportunity to really sort of add some energy into it" 
What about a senate run for Captain Beckett? Co-showrunner Terrence Paul Winter chimed in that it is, "something we absolutely considered, and it's not like it's off the table." 
"What we realized is that the best way to tell Castle's stories is to have Castle investigating twisty, fun cases. And the best way to do that is to keep Beckett in the precinct."
But will Beckett's promotion to Captain mean more time behind a desk and less time working those cases with her husband? "The important thing to say about [Rick and Kate] is that the show has always been and will always be about their love affair," says Hawley. "But we're looking to add some drama to it, some spark to it. We're going to have fun. It's going to be emotional at times, it will be romantic…. It will be everything."
Will new characters Hayley Vargas and Vikram Singh be adding to that drama?
If you can't wait for Castle Season 8 Episode 1 to return on Sept. 21, you can always watch Castle online here at TV Fanatic. 
C. Orlando is a TV Fanatic Staff Writer. Follow her on Twitter.