Chasing Life Season 2 Episode 5 Review: The Domino Effect
Paul Dailly at . Updated at .
It's almost time for April's wedding y'all.
On Chasing Life Season 2 Episode 5, everyone got a little crazy, and it made for some funny moments. April's bachelorette party got rather crazy when she decided to go to a strip club. It wasn't at all awkward that she brought her mother and grandmother along, right?
WRONG.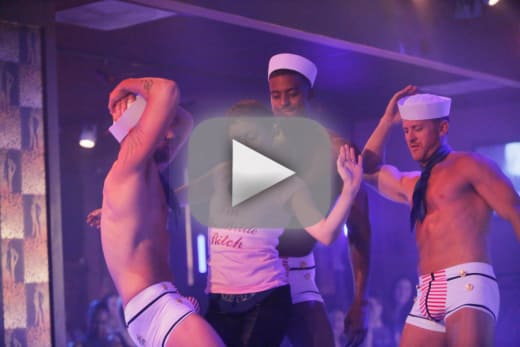 I'm not surprised April overstepped the mark and got arrested. She has been acting so out of character recently it's starting to bug me. She's becoming rather selfish, and I guess that's just part of her growing up. I find it hard to believe the she pretty much said no to working on a young adult novel.
These opportunities seem to be falling in her lap, and she seems to be squandering them, right?
Dom and Leo finally came to blows. It was about time. Dom shouldn't be creeping on April anymore. She's getting married to Leo, therefore, he should never have mentioned anything to him about still loving her and wanting her back.
Maybe he should have thought about that before ditching her when she was first diagnosed with cancer. Everyone makes mistakes, but that's probably one of the biggest. 
Amber West was an excellent addition in the role of Frankie. She made me think about the good old days of Greek, which was one of my favorite shows when it was on the air. It'd be nice to see her stick around and keep Leo on the right path. It was rather puzzling that Leo kicked her to the side when he had cancer, and she won't be forgetting that any time soon. 
Brenna's public school life is finally looking up. I did have a lot of problems with her scenes with Finn when she was treating him like a cancer patient. The things she said were not a slip of the tongue, and it all felt a little forced. I just wish they'd finally both find out that she donated the stem cells to him. I totally wasn't buying his comment about not liking the chips, then suddenly liking them.
That would be a little ludicrous if he liked them after the donation, right?
Emma might be leaving us y'all. Yes, at the start of the hour she was all set to send her man packing, but as the hour progressed we got the news that he wanted her to move away with him. She deserves happiness at this stage in her life, so she should take it while she can.
He's not going to sit waiting around on her forever. It should be interesting to see just how the family copes in her absence. She's like the glue that holds all of them together, so she best pop back up if she goes!
"The Domino Effect" was my least favorite episode yet of the show. I'm hoping the shortcomings were just a blip and that the show returns to what makes it so good for Chasing Life Season 2 Episode 6. 
Remember you can watch Chasing Life online right here on TV Fanatic. Get caught up now!
Paul Dailly is the Associate Editor for TV Fanatic. Follow him on Twitter.