Chasing Life Season 2 Episode 8 Review: The Ghost in You

Rachel Miller at . Updated at .
Losing a loved one will never be easy.
On Chasing Life Season 2 Episode 8, we see how April is coping with the sudden death of her husband Leo. It has to be hard for April to lose Leo so soon. The two lovebirds were newlyweds and talked about potentially starting a family together. Within a blink of an eye, Leo was gone.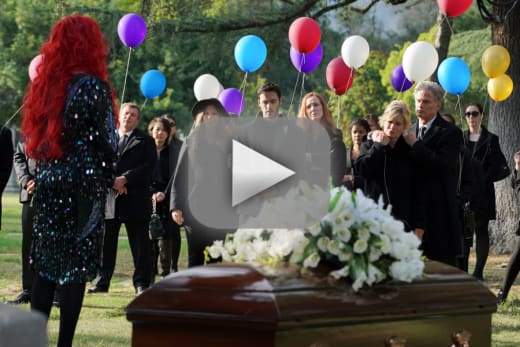 I can't go back there. It's too much.

April
With April still in a state of shock over his death, being near things that remind her of Leo triggers too much pain and emotion.
But, seriously, can you blame her? It's nice of Beth and Natalie to volunteer to get April's belongings from the apartment she shared with Leo. Everyone needs someone that's willing to help them in an emotional time of need.
While sorting April's things out of the apartment she shared with her husband, she and Beth stumble upon a letter from Leo. It turns out that he knew he didn't have long to live. He left a little scavenger hunt journey for April to embark on, which turns out to be something she really needed. 
It's nice to be out of your room, isn't it? You spend a lot of time in there.

Beth
Beth being the good friend she is, convinced April to follow the clues. She knew that her best friend was having a hard time dealing with Leo's death. Beth just didn't understand how to help someone deal with death. This was her way of helping April deal. Beth was ready to help April in whichever way she could, even if it meant going on a wild goose chase across town.
You're only here to make yourself feel better.

April
Bravo to April for finally putting Dominic in his place. The guy actually told Leo he still had feelings for her the day before the two were getting married, and started a fight.
Do you think Dominic visited April for his own selfish reasons or was he really trying to make her feel better?
He came into your life exactly when you needed him.

Dominic
Eventually April forgave Dominic for everything they went through. He was nice enough to put his pride to the side regardless of his feelings towards her to tell April that Leo was pretty much heaven sent. I have a feeling that somewhere down the line Dominic will try to rekindle the relationship he had with April. Only time will tell.
Getting over the death of a loved one is never easy. This episode showed that it is okay to not be ready to let someone go after they've passed away. April still envisions Leo in her dreams. She has conversations with him. This is her way of coping with is death.
You should take your time with all of this. What's the rush?

Leo
The scavenger hunt from Leo was a great way for April to get over her husband's death while still missing him in the process. It's nice that Leo was able to find love with April. In reality, it was something they both needed at the time. In due time, she will come to terms with his death. She will still need time to figure things out and that is perfectly okay.
No longer seeing Leo on the show will be hard getting used to. The character blended so well with April. His upbeat energy was much needed on a show that deals with so much drama. 
What are your thoughts about Leo's scavenger hunt? Will you miss him? How do you feel about the way April is coping with his death? 
Don't forget you can watch Chasing Life online right here on TV Fanatic.