Fear the Walking Dead Season 1 Episode 1 Review: Pilot

Sean McKenna at . Updated at .
With the success of The Walking Dead, it seemed like a no-brainer to introduce a companion series that would offer a different take on the zombie apocalypse.
Focusing on Los Angeles descending into chaos as the outbreak of undead just gets started – pretty much everything that happened while Rick Grimes was taking a long coma in The Walking Dead Season 1 Episode 1 – would be an exciting shift backward in time while exploring a new location.
But at the reveal of a lame title in Fear the Walking Dead (c'mon, all they did was add the word "fear") and some less than stellar first clips, including a character running (from what? Zombies? A husband who found the guy with his wife?), I was worried that the new series was going to be a waste of time and simply cashing in on its name association.
Except, Fear the Walking Dead Season 1 Episode 1 put my own fears to rest, delivering a tense, engaging, and worthy addition to The Walking Dead.
The pilot was easily accessible to viewers who've never seen an episode of The Walking Dead, as it's not really connected beyond existing in the same world. But having watched The Walking Dead, and seeing the decayed and collapsed world, there was something refreshing about watching multitudes of people take part in regular day-to-day activities, all unaware of the chaos about to descend upon them.
It even made me laugh listening to that one student question the need to know how to make a fire. All you need is a stove, right? Bet he gets eaten...
But the "normal" life was unsettling, too, as the pacing allowed for a heightened sense of anticipation for the walkers. We all know what's coming, but the characters on the series were only just trying to comprehend some of the weird events going on.
I was glad that the pilot didn't rely on zombies to get the story going. A nice tease of "Gloria" in the church used by drug addicts, some leaked video of police dealing with a man who just wouldn't go down until getting shot in the head, and the more personal reveal of the drug dealer turning was the right amount to whet your appetite for zombies without overdoing it.
I even thought the old guy with the intense labored breathing in the hospital was going to turn. It was nice to be kept on my toes for that scene.
Rather than focus on the blood and gore of walkers ripping people apart, the premiere played off the anticipation for something to pop out or for a walker to appear, and that raised the level of tension and scares to a successful level.
I'm not completely sold on the main family yet, but of interest was that Travis (Cliff Curtis) is a teacher and Madison (Kim Dickens) a guidance counselor. They aren't some gung-ho couple that seemed primed and ready to take on walkers. They feel like your sort of everyday people, so it will be interesting to see how they handle life as things keep falling apart.
There's definitely going to be some familial drama, but I liked seeing how both Travis and Madison care about their kids. Let's hope that care and concern for others doesn't get them killed, though.
Madison's son, Nick (Frank Dillane), was intriguing, as was the way that his drug addiction made his story that much more unbelievable for others as much as it was confusing for Nick.
Imagine trying to tell a friend you just saw someone eat a person's face. It would be a pretty tough sell, seeing people's reactions to it and Nick's attempts to understand the situation worked just as well.
And sad to say, but I've got a feeling that Alicia (Alycia Debnam-Carey) is probably going to find her boyfriend a walker if and when she does find him. I guarantee their romance won't play out like in the movie Warm Bodies.
There's of course some eye-rolling moments in the premiere such as Travis choosing to investigate the church at night (really?) or the heavy-handed dialogue from that kid who seems to know what's coming.
While there's nothing that feels really groundbreaking when it comes to the pilot, it does ultimately capture a real sense of paranoia and apprehension. And by the end, I was enthusiastic to see what's next.
So for now, I'm going to leave the worrying to the characters in Los Angeles, because Fear the Walking Dead Season 1 is looking like it will wind up being a monster hit.
Are you excited for this companion series? What did you think of the pilot? Sound off below, and catch the premiere again when you watch Fear the Walking Dead online now!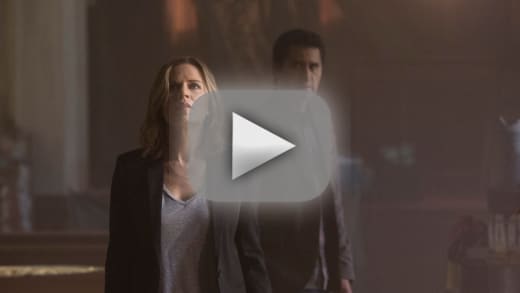 NOTE: Fear the Walking Dead Season 1 Episode 2, "So Close, Yet So Far," airs Aug. 30 at 9 p.m.
Sean McKenna was a TV Fanatic Staff Writer. He retired in May of 2017. Follow him on Twitter.