Humans Season 1 Episode 7 Review: 1.7
Paul Dailly at . Updated at .
Does anyone else feel bad for Karen right about now?
On Humans Season 1 Episode 7, we got some much needed back story on Karen and how she was apart from the super synths. It's not every day you're built to look like someone who is dead, right?
I can understand why the other synths were frightened of her. They obviously went through a period of grief saying goodbye to their "mother" and then through the magic of technology, someone who looks like her popped back up in their life.
It's only natural that Karen saw little purpose in her life and set out to make a new identity. It's kind of similar to what Niska wants to do, but not as heartbreaking.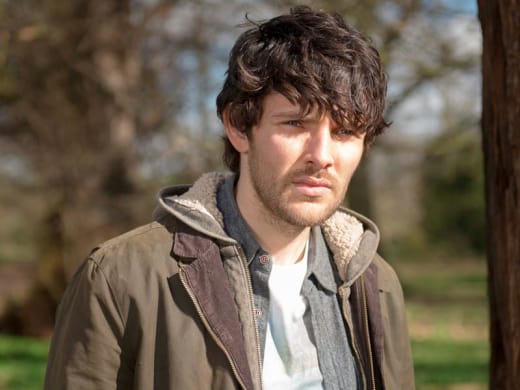 It was obvious things were not going to end well. Poor George became collateral damage as Karen pleaded with Niska to kill her. Niska only kills people who are downright evil, and Karen is just a woman who has had a traumatic life. It was bad of her to help Hobb and the police track down her siblings, but she knows deep down that they are not good for humanity. 
Did anyone else breathe a sigh of relief when Joe was caught for alerting the police? That was a douche move, and I'm so happy that everyone knows what a snake he is. Sure, he could have been trying to protect his family, but he effectively killed Max. 
Speaking of Max, he was tracked down and left to charge up, but he's pretty much a goner at this stage. He's malfunctioning now. 
The police just randomly showing up after Karen left made it clear she helped get them caught. Like I said, she's had a horrible life since being brought into this world. Hobbs even knew her as Beatrice after all these years. Could he and Beatrice have some sort of past? It certainly looks that way. 
Considering the Hawkins family now knows about Niska's murderous ways, they seem to be against the synths, but I'm sure this will all change come Humans Season 1 Episode 10. They have to find a way to tie the stories together, and I'm sure the Hawkins will be the ones helping them out of Hobbs' grasp. But will all of them make it out alive? Don't bet on it. 
There's been a lot to like throughout Humans Season 1, and I can't wait to see what great things are coming for us in the season finale. I hope these synths manage to come together as a family once and for all without the worry of being caught. Unless the show is hitting the reset button in Season 2, I don't see that happening. 
"1.7" was another solid episode of this AMC drama. It's continuing to improve by the week, and the bar is set very high for the finale. 
Remember you can watch Humans online, right here on TV Fanatic. Get caught up on the drama now!
Paul Dailly is the Associate Editor for TV Fanatic. Follow him on Twitter.