Janel Parrish Previews Pretty Little Liars Summer Finale, Shocking Answers to Come
Jim Halterman at . Updated at .
Will the game finally be over for Charles next Tuesday night?
Will viewers finally receive THE big answer they've been waiting for on Pretty Little Liars Season 6 Episode 10? Will we finally come face-to-face with the actual A?
Yes, according to Janel Parrish, who teased some major developments to come on the summer finale when we talked at the ABC party during the Television Critics Association Summer Press Tour this week.
Look for everything to escalate on the finale - and, as Parrish promises, we're going to truly get some major answers to long-standing questions.
Scroll down to find out how the show will be a little different after all the craziness goes down in just a few days...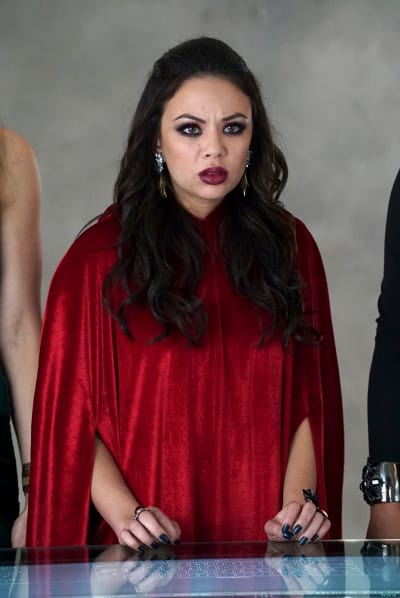 TV Fanatic: This last week, Mona was following Alison. What are her intentions as far as that? Is it to protect her or to get to the bottom of everything or…?
Janel Parrish: Mona comes to the prom to uncover a mystery that has to do with Charles and A, and everything that she's been through with the girls. She comes to find the girls to, basically, say let's go put the pieces of the puzzle together. Because Mona's there is kind of the reason why they end up finding out what happened. Mona's always lurking around, for better or for worse. In this case, it ends up being for good.
TVF: I feel  like, and we've talked about this before, Mona always knows more and is maybe a step ahead of the other girls.
JP: Yes, it is so much fun to play, it really is. I really do feel that way. I feel that Mona is always very knowing and doesn't always divulge right away what she knows, but she always knows a little bit more than what she says and I think that that's such a delicious thing to play. I love that.
TVF: So moving into the summer finale, what is Mona's piece of it?
JP: She and the girls uncover the story of A and basically since the pilot, every question you've ever wanted answered is answered.You will find out who killed Toby's mom. Who hit Bethany over the head? Who hit Alison over the head? Who is Red Coat? Who is Black Widow? Every question, and it's all woven together, and it comes together in such a beautiful way. The writers are so genius.
TVF: I can't ask you what happens but were you surprised at what Mona's piece is in the finale?
JP: Yes! There is one big shocker that does have to do with Mona that I was, like, 'whoa, did not see that coming,' but everything makes perfect sense.
TVF: What are those table reads are like when you are all reading a finale like this?
JP: The finales are the most fun because everybody is just like, 'wait, what?' And you look at Marlene [King, creator] and she just sits there looking so pleased because she's in it and she put it together and she didn't tell anybody for six seasons.
She pulled it off, the most amazing thing ever, which is just keeping the secret and piecing the puzzle together. We're all just like in awe of her. It's a celebration. The finales are always a celebration of the season.
TVF: You said all the answers are woven together. Does that just mean that as the story is moving along we're finding pieces out along the way?
JP: Exactly. All the pieces fit together to reveal who A is and why and why A did everything.
TVF: I'm guessing, knowing Marlene's genius, it will all make sense.
JP: That's exactly how I felt when I read the script. I was like 'why didn't I put this together sooner?' It makes perfect sense.
TVF: Even though we're getting all this information, will there still be a nice, juicy cliffhanger?
JP: Absolutely. What happens, basically, is we end up jumping five years and the girls are all off doing different things and  they have, basically, different lives. They're grown up, they have grown-up lives and jobs and relationships and they're all called back to Rosewood, by Alison, where something happens that makes their lives take a turn and there will be a new adventure, and a new mystery.
TVF: Now all of you can be closer to your own age?
JP: Exactly. We will all be in our early 20s. There will be a new Pretty Little Liars and Mona. It's got more of a Sex in the City, Gossip Girl feel but still with the murder mystery and everything going on.
TVF: What else are you up to because I've seem you singing your heart out on stage around some productions in LA.
JP: For the past three years, it's my favorite thing to do on the weekends. I found theater companies to belong to and shows to perform for and my first love is music and performing so if I can continue doing that and still work in TV and film, I'll be a very happy girl.
Pretty Little Liars Season 6 airs Tuesdays at 8/7c on ABC Family.
Jim Halterman is the West Coast Editor of TV Fanatic and the owner of JimHalterman.com. Follow him on Twitter.