Rizzoli & Isles Season 6 Episode 8 Review: Nice to Meet You, Dr. Isles

Jack Ori at . Updated at .
Everyone has that one family member that drives them crazy.
For Frankie and Jane, it's Angela. That's a given – after all, it's part of the premise of Rizzoli & Isles.
But on Rizzoli & Isles Season 6 Episode 8, the shoe's on the other foot as Maura struggles to deal with an estranged father who also happens to be a murder suspect.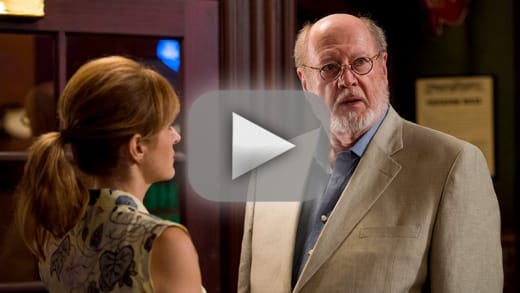 I have to admit I was a bit confused by Dr. Arthur Isles. I thought Maura's father was Paddy the convict. But maybe I just wasn't paying enough attention.
In any case, Arthur Isles was an interesting character. Intelligent and interested in esoteric things (in his case bugs and pufferfish toxins), it's not hard to see where Maura gets it from.
Despite the fact that her father was a murder suspect for a little bit, he was so likeable that I wondered what exactly was Maura's problem.
Maura: Talk about what?
Jane: Your father and murder in the same sentence.
When Maura finally told Jane the real story at the end of the hour, it was a bit of a letdown for me. Maybe I watch too many dramas, but after Maura's dramatic avoidance of her father, I expected a far bigger secret than the fact that he had an affair with her best friend's mother.
However, the conflict was juxtaposed nicely with Jane and Frankie's problem with Angela. Frankie's fear of Angela led him to manipulate Jane into convincing her not to move out of Maura's house. When Jane ended up moving in with Frankie, which he wasn't any happier about, I felt it served him right for not saying what he meant.
Frankie was quite over-dramatic about the effect Angela's presence would have on his life, but then again, Jane wasn't much better.
Maura, I live in a 2 x 3 room to avoid living with my mother.

Jane
I know Angela can drive Jane nuts, but normally she spends 95% of her time at Maura and Angela's anyway. So I'm not quite sure what the big deal is.
Interestingly, the case also involved a disagreement between a father and daughter. Rya's daughter Karina held more modern values than her father. She didn't believe in her tribe's insistence on staying focused only on the present or in prohibitions against selling items found on the land. Vince and Jane initially thought Karina would go as far as to murder Ten Moes in order to keep her disobedience of tribal rules secret from her father.
It seems lack of communication in families was at the heart of "Nice to Meet You, Dr. Isles." It especially struck me that Vince's advice to Karina was similar to Jane's advice to Maura's father.
You know, Maura gave her kidney to someone she barely knew. So if she's this mad, it's probably gonna take some time.

Jane
Most of the humor in the hour came from Vince. He seemed to be focused on how his squad room was falling short of expectations. My favorite Vince line was when he told the team to erase a name off their metaphorical chalkboard.
Vince: Erase another one from the chalkboard.
Frankie: We have a chalkboard?
Vince: We used to. It was very satisfying.
Your turn to comment! Who did you think was the whiniest about their family – Frankie, Maura or Jane? Did you feel sorry for Dr. Isles when he had to resort to asking Jane to try to get Maura to talk to him? Do you think Jane will ever decide she needs anything besides a new pair of pants? And what the heck is in Frankie's secret drawer? Share your thoughts below.
Don't forget: if you missed an episode, you can always watch Rizzoli & Isles online to catch up!
Jack Ori is a senior staff writer for TV Fanatic. His debut young adult novel, Reinventing Hannah, is available on Amazon. Follow him on Twitter.