Sex&Drugs&Rock&Roll Season 1 Episode 5 Review: Doctor Doctor

Sean McKenna at . Updated at .
I guess it was only a matter of time before the band would wind up in therapy.
And it was no real surprise that Johnny and the gang all have their respective issues. The whole "dysfunctional family" has been laid out rather clearly in regards to the band.
But I think I barely laughed during Sex&Drugs&Rock&Roll Season 1 Episode 5 and by the end, I was really just left to wonder what the series wants to be overall.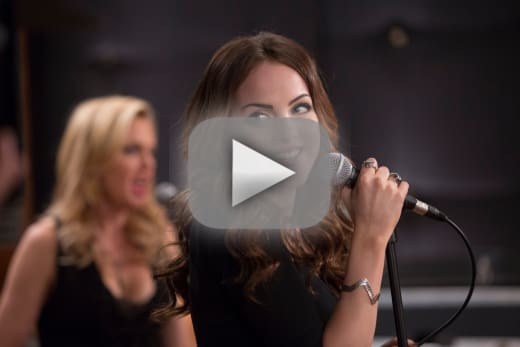 Sure, there were some humorous moments like Rehab playing out his feelings through song or Gigi and Johnny arguing over their version of Steve McQueen. Or even that Flash's wife wasn't just with Johnny.
Yet, there also felt like a lot of yelling and shouting in an overlong montage of the characters sitting down with the therapist.
What's more, the conflict for the half-hour felt relatively thin and was wrapped up by episode's end. It just seems like there aren't really any stakes when it comes to the characters.
There seems to be plenty of potential to dive right in to straight up comedy, and the edgy world of rock 'n' roll seems prime to explore when it comes to drama. But it never goes far enough on either end, and I wind up feeling disappointed.
I can't help but reiterate that the cast is great and the music is solid, but there's something missing, and this latest installment was my least favorite so far.
Sometimes I wonder if the half-hour format of the show hinders any chance for giving the story and the characters some time to develop.
With Gigi being further solidified as the queen of the band, I'd really like to see the show get a chance to go somewhere, not just in one building or setting the entire time, but branching out beyond one concept like going to therapy.
Let's hope the next episodes digs a little deeper and manage to pull out a far more engaging set.
Who's your favorite character? Sound off below. Plus, be sure to rock out with Gigi and the Assassians when you watch Sex&Drugs&Rock&Roll online now!
NOTE: Sex&Drugs&Rock&Roll Season 1 Episode 6, "Tattoo You," airs Aug. 20 at 10 p.m.
Sean McKenna was a TV Fanatic Staff Writer. He retired in May of 2017. Follow him on Twitter.