Under the Dome Season 3 Episode 8 Review: Breaking Point
Paul Dailly at . Updated at .
We need to kill them all.
On Under the Dome Season 3 Episode 8 Christine was not at all happy when Julia, Jim, Norrie and Joe took action to ruin their plans of saving the dome, and by the end, she concluded that it's time to kill off everyone outside the kinship.
As much as I'm hating the character of Christine, I'm actually really digging this war storyline. It's given the show a new lease on life, and I'm actually excited to see how the rest of the season plays out.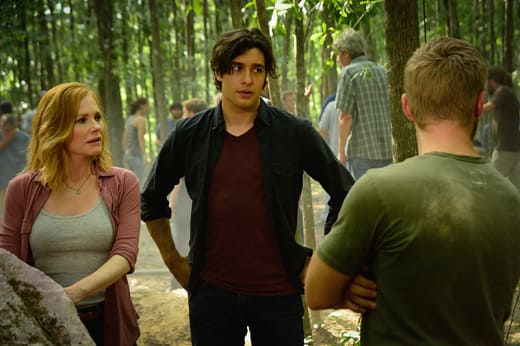 I'm not a fan of the way Barbie's character has been handled. He has single handedly been murdered by the powers that be. They better not start a redemption storyline for him; Julia is getting by just fine with Jim. They've got stuff handled. I do feel bad for Julia, but regardless of whatever compulsion Barbie is under, it must suck to see him with someone else. 
The parts with the cave were actually very well produced, and I honestly thought Joe and Norrie were going to be trapped by the end of the hour. Norrie knowing that Jim and Julia played a part in her mother's demise and continuing to stay with them proved how much these characters really need each other. Sure, there will be some emotional ramifications, but these people have a war to win. I can't have been the only one laughing when Barbie thought there was only one bomb!
It was a little bit of a cop out to have the outside world all fine and dandy while the dome played the residents of Chester's Mill an Imax end of the world spectacular. It would have been way more interesting if all of this really happened. The dome has a messed up way of showing people it cares for them. 
Elsewhere, Hunter connected with someone from Aktion, who proved that there is more to them than meets the eye. I actually cringed for the credibility of whomever wrote the scene where Hunter grilled Jim about whether he killed Marsden. He could have at least waited until the end of the call with that chick who bored me as Lily. 
Something is going on outside the dome with Aktion that we don't know yet. It's killing me! Why did Lily pull out a gun when her door was knocked? Either the show has thrown too many duff scenes at us, or the powers that be are actually making it interesting again. 
I really can't fathom what the script is with the emotions apparently playing a part in returning the other kinship members to their former beings. It worked on Hunter and to an extent Norrie's mom, but Jim tried it on Junior and had no luck. These are questions that need to be answered soon. 
All things considered, "Breaking Point" was a decent outing for the show. This season has been tedious and just downright awful, but the past two episodes have given me hope that the show can tell us a compelling story before it ends up canceled. I'm not saying the show is excellent now, it's just a lot more worth watching than it was a few weeks back. 
Remember you can watch Under the Dome online, right here on TV Fanatic. Get caught up now!
Are you enjoying the new direction the show is heading? Will Barbie attempt a reconciliation with Julia? Hit the comments below, and chat with me!
Note: Under The Dome Season 3 Episode 9 airs Thursday August 13 at 10/9C on CBS. 
Paul Dailly is the Associate Editor for TV Fanatic. Follow him on Twitter.