Awkward Season 5 Episode 3 Review: Jenna in Wonderland
Paul Dailly at . Updated at .
Who'd have guessed that Jenna would rise the ranks to become the most popular gal in school?
There was a lot of role swapping on Awkward Season 5 Episode 3 which found Jenna's popularity soaring to dizzying heights and Matty's flat lining. 
Given the way Matty has acted the past few weeks, it's no surprise that his reputation is in tatters. Yes, he's been burned by too many girls, but he must now realize that Jenna is the one for him. I don't quite get his reasoning for blowing her off. He didn't look happy with the geeks until he got that text from her.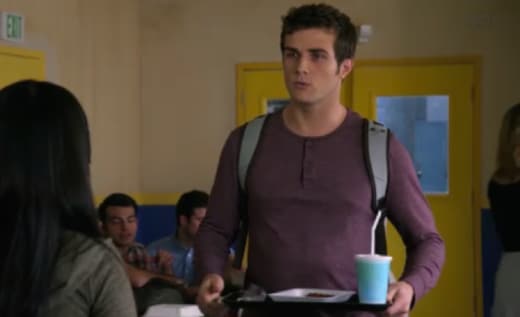 Does he feel like the ball is in his court, and he's now playing hard to get? If so, he's sadly mistaken. Jenna might still hold a torch for him, but she's sure as hell learned from past mistakes. 
If we are to see a relationship, don't expect it to be straight into the deep end. There are a lot of obstacles in the way, but when these are brushed to the side, expect this end game couple to become one. 
Matty: What is that?
Tamara: Your bender is a trender.
Ali really stepped up in Val's absence. She was the Queen of wit and that party was freaking hilarious. Lissa's mother is way too reserved, so it was about time she let her hair down. Although she'll never admit what happened in her seventeen minutes of heaven, practically everyone at the party knows about it. 
Hopefully Val's absence comes to an end pretty soon, but I'll settle for Ali in the meantime. 
Tamara's maturity is dwindling by the episode. She totally needs to call off the engagement and not break the dude's heart. We now know that she's planning her wedding just for the sake of knowing she's planned one. Before she knows it, this deceit will grow arms and legs, and she'll be married with children to someone with whom she has no intention of sticking it out. 
Let's talk about Jenna. She's pulled a nice trick winning everyone over, but this won't last for very long. It's refreshing that she hasn't ditched her friends on the way to the top because let's face it, that would be so been there done that, right?
Put a flavored condom on your head because your mind as about to be blown. Jenna. you are legit popular.

Tamara
"Jenna in Wonderland" was another solid episode of this MTV comedy. Five seasons in and the laughs are certainly still there. The show is currently putting out it's best half season in a few years. There are a lot of questions up in the air at this stage, and I can't wait to see what happens before high school reaches it's bittersweet conclusion.
Remember you can watch Awkward online, right here on TV Fanatic. Get caught up on the drama now!
What did you think of "Jenna in Wonderland?" Are you enjoying the direction the show is going? What do you want to see happen before our time at Palos Hills High School is over?
Note: Awkward Season 5 Episode 4 airs Monday September 21 at 9/8C on MTV. 
Paul Dailly is the Associate Editor for TV Fanatic. Follow him on Twitter.