Nothing cures a case of the Mondays like watching Dancing with the Stars!
On Dancing With the Stars Season 21 Episode 1, we got to meet all thirteen couples and see their first dances, some of which blew us away, and some of which left us pretty underwhelmed. But, hey, it's week one, so that's how it goes.
More importantly, it looks like we've got a fun group of contestants overall, and the pros are all stepping up their game.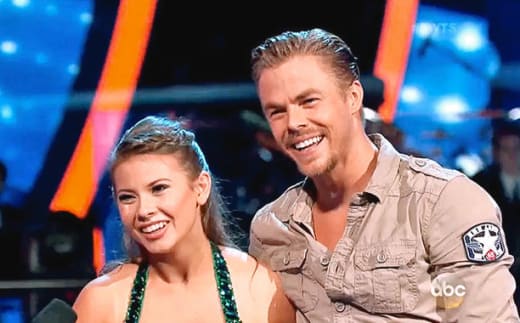 We're back to having only three judges at the table, thank goodness. I'm sad that Len is gone, but four judges at the table was far too crowded. Now that we're back to three, it means more time for each judge to give feedback, and it just seems to simplify things a bit more.
I do love Julianne as a judge, but I have to say, I'm surprised to see her in that center seat. It just seems that's a pace for Carrie Ann or Bruno.
But these are just minor details. What's more important is the actual dancing!
The first dance of the night came from the completely adorable Victor Espinosa. He may not have all the moves figured out just yet, but that dance was fun to watch.
There's a married couple competing against each other this season, which makes for an interesting dynamic. Both Carlos and Witney and Alexa and Mark danced fabulous jives that tell me they'll be in this competition for a while.
What I like about everyone this season is that even those who didn't do that well didn't necessarily have a bad attitude. And there were some very low scores handed out. Still, it looks like everyone is just focused on trying to improve. 
Gary Busey was one of the most fun dances to watch, even though he didn't score quite as high as some others. Besides, he's Gary Busey. He's fabulous for all kinds of reasons.
No one is surprised that Bindi and Derek landed at the top of the leaderboard with a jive that might have even earned higher scores if this weren't week one. Can we please get an encore of this one?
My middle school self might have swooned a little bit over the fact that a Backstreet Boy is competing this season (I'm not alone here, though. So did Julianne Hough). It's also not surprising that Nick and Sharna tied for the top score of the night. They even incorporated a few classic Backstreet Boy moves into the mix for good measure.
I'd say we're in for a fun competition this season! Here's the full list of scores from week one:
Bindi and Derek (Jive): 24
Nick and Sharna (Cha Cha): 24
Tamar and Val (Quickstep): 23
Carlos and Witney (Jive): 23
Alexa and Mark (Jive): 22
Alek and Lindsay (Foxtrot): 22
Andy and Allison (Foxtrot): 21
Hayes and Emma (Cha Cha): 21
Victor and Karina (Salsa): 15
Paula and Louis (Quickstep): 15
Gary and Anna (Cha Cha): 15
Chaka and Keo (Cha Cha): 13
Kim and Tony (Salsa): 12
What did you think of the premiere of Dancing with the Stars Season 21? Share your thoughts in the comments below, and let us know who you're rooting for this season!
Ashley Bissette Sumerel was a staff writer for TV Fanatic. She retired in September 2017. Follow her on Twitter and on Google+.