Hometown glory, plus a little bit of rock and roll made for an especially fun night with Dancing With the Stars Season 21 Episode 2.
While a lot of the competitors are still finding their footing, there were a lot of awesome routines and fun moments.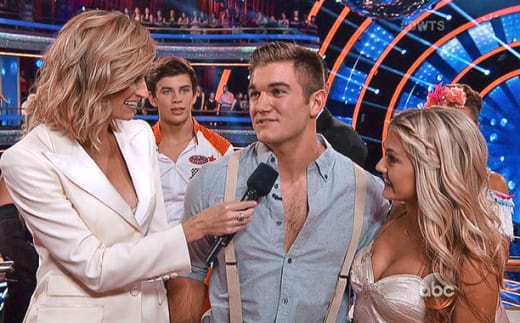 I honestly can't believe that the couples were asked to do two routines so early in the competition. You have to assume that means the dances won't be quite as good as they would have been otherwise, but then again, maybe the pressure is just what everyone needs.
It will, however, be exciting to see Dancing with the Stars on twice this week.
The Hometown Glory theme worked well to pull at our heartstrings and let us learn a bit more about the contestants, which I think is really important. It also meant that the music choices were especially stellar.
I was fully prepared to say that the winning song choice of the night was for Alek and Lindsay's routine, with "Don't Stop Believin'" (seriously why doesn't someone choose that song every season?). But then Victor and Karina busted out with "La Bamba," and Gary and Anna danced to "Wouldn't it Be Nice."
But nothing, nothing compared to the song that Bindi and Derek chose for their Tango. I don't think I've ever seen anything quite like their tango to AC/DC's "You Shook me All Night Long." Can we please get an encore?!
Now for the part where I complain about the way eliminations are handled. I think it's ridiculous to ask all of the couples to work on a new routine when it has already been decided who will be sent home. That's the inherent problem with the fact that there are no longer results shows on a regular basis. Secondly, it isn't done justice. We shouldn't be rushed through an elimination, only to see a cultural icon get sent home.
Yes, THE QUEEN OF FUNK was the first one to go. Chaka and Keo were eliminated, and you can't help but feel bad for Keo, the new pro who has yet to be able to make it more than a couple of weeks into the competition.
Other thoughts:
Andy Grammer's response to Carrie Ann on why he couldn't keep time with the music? "Dancing is hard."
Is it me, or does Val have a little extra swagger this season?
Mark is back at it with his costumes, and it's fabulous.
What did you think of this installment of Dancing with the Stars and who do you want to take home the mirror ball? Share your thoughts in the comments below!
Here are the scores from Hometown Glory Night:
Bindi and Derek (Tango): 25
Carlos and Witney (Foxtrot): 24
Tamar and Val (Cha Cha): 24
Alexa and Mark (Salsa): 24
Alek and Lindsay (Jazz): 23
Hayes and Emma (Foxtrot): 22
Nick and Sharna (Jive): 21
Andy and Allison (Jive): 21
Paula and Louis (Rumba): 19
Kim and Tony (Quickstep): 19
Gary and Anna (Foxtrot): 18
Victor and Karina (Jive): 17
Chaka and Keo (Foxtrot): 15 -- ELIMINATED
Ashley Bissette Sumerel was a staff writer for TV Fanatic. She retired in September 2017. Follow her on Twitter and on Google+.