Gotham Season 2 Episode 1 Review: Rise of the Villains

Lisa Babick at . Updated at .
What do you get when you cross a stone-cold hardass with a fruitcake leprechaun? A kickass kickoff to Gotham's second season.
Sure, Gotham Season 2 Episode 1 starts off right where we ended Gotham Season 1 – with Bruce and Alfred staring down a mysterious keypad-locked door – but then we jump one month ahead and with a quick montage and a cool cover song ("Perfect Day" by Lou Reed) to catch us up on our favorite characters, we delve into a dark comic book of campy fun.
There seems to be a lot of deliberateness to everything Jim is doing, thus the campiness. Maybe being demoted from a detective to a traffic cop has really messed with his mind. Maybe it's just living with Leslie that's making him crazy (did you see Gordon's face in that opening montage?).
Either way, crazy is the word of the day and Jim's day has started off pretty bizarre. After his run-in with nutcase Zaardon, he runs into another nutcase – Edward Nygma – gets fired, then decides that Penguin (aka the fruitcake leprechaun) might be the one to provide a solution to his problem. Crazy, right?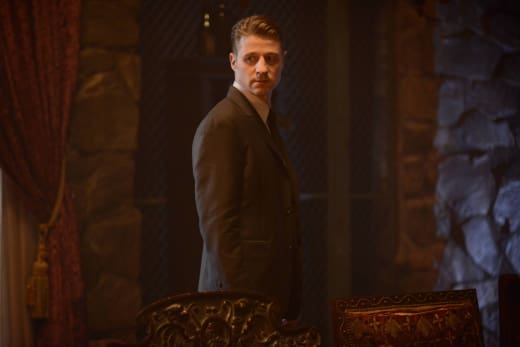 But when you're desperate, I guess you're willing to do anything, and that's probably why the once goody-goody Jim Gordon is sniffing around the dark side's air.
 What I really liked was that it was Bruce who ultimately swayed him by telling him that, "sometimes the right way is the ugly way." Such insight for such a young kid that it makes you wonder what else is going on in that 12-year-old mind.
So Jim jumps right in and gets Penguin what he wants, and in turn, Jim gets what he wants – which is to be to a cop again. A real cop. Which is probably what Gotham is really going to need very soon considering that Theo Galavan has broken out some nuts from Arkham, including Jerome and Barbara. 
But I digress. We need to talk about Bruce for a minute and what he discovered after finally breaking into his father's secret lair.
Does anybody else get the feeling that Alfred is playing dumb as far as knowing about Thomas Wayne's secret? How could he not know considering he worked for him for such a long time?
Anyway, Bruce finds a letter from his dad where he tells him he has to choose between happiness and the truth; an odd thing to say. But what's interesting is that he tells his son to choose happiness unless he feels a calling, "a true calling." It's all very interesting, and I get the feeling that after Bruce read that he had a mini epiphany. As in, he knows what his true calling is ultimately going to be.
Despite all the darkness and the threat of doom and gloom to come, there were also a lot of fun moments in "Rise of the Villains: Damned if You Do." My favorite was at Loeb's retirement when the all-male choir started singing, "So Long, Farewell" from the Sound of Music.
I hope that as the season progresses the show will continue to balance the dark with the lighter, campy moments. This was a great start to what promises to be a great season.
What did you think about the Gotham Season 2 premiere? Are you excited for the rest of the season? What was your favorite scene? Did Jim make the right choice working with Penguin? Let us know in the comments below!
Relive the fun and watch Gotham online right here on TV Fanatic!
NOTE: Gotham Season 2 Episode 2, "Knock, Knock," airs Monday, September 28 at 8/7c on FOX.