Minority Report Season 1 Episode 2 Review: Mr. Nice Guy

Henry A. Otero at .
That's right, the series' overarching mysteries are beginning to take shape.
FOX has a tendency to force their genre shows into a procedural box, ultimately chasing fans away. Minority Report Season 1 Episode 2  quickly established itself as a serialized show (with procedural elements). That's a good thing, because it's what we geek fans tune in for.
This installment was slightly predictable, but it gave us a chance to get to know our core characters better. The future looks phenomenal, and I'll check in weekly just to see the dazzling tech of 2065. I love me some eye candy!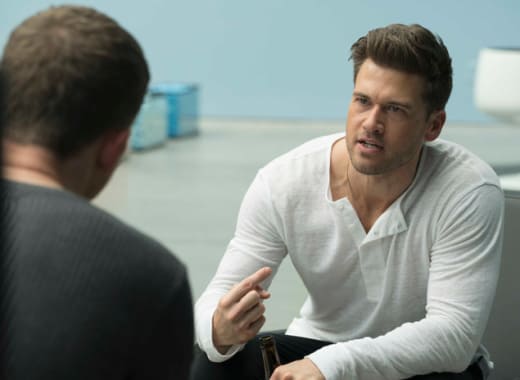 The precog milk bath/Wally flashback dropped us in the film's time frame. While that final scene in Minority Report Season 1 Episode 1 between Arthur and Agatha hinted at an overarching mystery for the series, this scene drove the point home. Like many fans, I worried FOX would opt for a futuristic procedural rather than an honest to goodness serialized genre show. Why the heck can't you have both? Perhaps the suits did learn a lesson from the Almost Human debacle after all. Yeah we forgive FOX, but we never forget.
Anyway, Wally's paternal nature instantly won me over. It's important for us to see those moments, not just hear about them. There's no doubt Wally loves the precog siblings, which in turn makes us love him right back. He knows each one's strength and weaknesses, yet accepts them. The tech continued to impress, as did Dash taking on several chess players at once. Sure he's cheating, but it's not like he ran off with anyone's money, so it's all good.
The stylish intro was gorgeous, setting the perfect tone for the show. I'm a huge fan of a great opening credit sequence; a few examples are The Walking Dead, Black Sails, Da Vinci's Demons and Daredevil.
Vega and Blake's training exercise took place in one hell of a holodeck. He's just letting things slide, right?
Blake: I've been cleaning up your mess all week on the Rutledge case.
Vega: Mess? I stopped a terrorist attack.
Blake: Yeah and you killed two suspects without your body camera operational. The feds are asking questions.
Vega: Like?
Blake: How you did all that, alone?
Both Blake and Akeela are simply asking for the truth; for Vega to trust them. Of course, she's forced to lie in order to protect Dash. Is there more to it than that though? Does she have an ulterior motive as Agatha believes? Well, we've just got to keep watching to find out.
Meanwhile, Dash went through Wally's torture session again. He definitely needs a better system, poor Dash is going to suffer a brain aneurysm. Wasn't it amusing how he so innocently mentioned the victim is a woman and the killer's a man. "That narrows it down" Vega replied. I loved those little moments.
The clues in Dash's latest vision were interesting and did not involve pigeons, for which I was thankful. This time around, Arthur's involvement was much more organic. His presence in the pilot felt forced. I like Nick Zano as Arthur, and I now understand why they didn't double up on Stark Sands. The two actors couldn't be more different, and have great chemistry. Arthur's comment about considering costumes to fight crime was clever. Superheroes are everywhere these days, so it was a fun jab.
Arthur comes across as cold and detached, but I don't think he's a bad guy.
Arthur: Our only power, that we have in this world, is what we see Dash. We need to use it, not throw it away on strangers.
Dash: I'm trying to save lives.
Arthur: Yeah I already did that, during the decade we spent in the milk bath.
I love that both brothers' points of view are valid, but Arthur is much more street smart. It's a complex relationship which I'm looking forward to watching unfold. Testing Vega was a smart move too, he's very "quid pro quo."  
Though the case had some twist and turns, I had a feeling the bartender was involved. We just kept coming back to the guy, and he had that creepy/suspicious vibe. Tyson Cole never came across as the murder to me. A bit of a tool sure, but not a killer. I'm hoping the suspects become a little less predictable in future episodes.
The hookup wristbands were cute, and I loved that our duo was only 51% compatible. That's the writers telling us they're partners, not love interests. That said, there's a major attraction between Vega and Arthur. Yeah, they're totally going there; mark my words.
Using the victim as bait was risky, but Vega had a point.
Vega: The only way to take him off the streets for good, is to catch him red handed with his victim.
Dash: By using her as bait? What if you mess up? Huh? What if you can't stop it?
Vega: I will.
Dash: I didn't realize you could see the future too.
Agatha scolded Dash some more. I hope this isn't going to be a weekly thing, she's such a party pooper. I did like that Dash came clean with Vega about it. Dash confessing he felt nothing when he killed Rutledge made sense, he's just seen too damn much. He's just sharing too much. Is Vega some kind of monitor à la Orphan Black? Was she hired to connect and keep tabs on Dash?
Speaking of which, Blake is doing some detective work of his own. He's keeping a close eye on Vega that's for sure. Another mention of Hawk-Eye tells me it's going to play a pivotal role this season. We'll learn more about it in the next installment.
In the end, Cole was innocent and the bartender made his move. While the outcome was a tad predictable, the events leading up to it gave us a chance to get to know our heroes better. I'm digging the cast, the world and its tech so far. FOX needs to let the writers do their thing and not simplify things for the audience. The more complex, the better; trust me on that.
So, what did you think of "Mr. Nice Guy"? Are you #TeamDash or #TeamArthur? Do you trust Agatha's visions? Are the precogs going back in the milk bath? Is Vega responsible for that outcome? You're turn, sound off in the comments below.
Want to check out the case again? Watch Minority Report online via TV Fanatic now!
NOTE: Minority Report Season 1 Episode 3 is titled "Hawk-Eye" and airs on Monday, October 5.