Agents of S.H.I.E.L.D. Season 3 Episode 4 Review: Devils You Know

Henry A. Otero at . Updated at .
Is Rosalind's right-hand man, Banks, too predictable a candidate for Lash?
The dragon lady did conveniently send him to the ATCU ahead of their transport carrying the latest Inhuman. Since Raina was trapped in her new form, it never occurred to me that Lash could shift back. Either way, this certainly deepened the character's mystery.
Agents of S.H.I.E.L.D. Season 3 Episode 4 dropped a couple of other bombs; Dr. Garner's apparent death and the fact Jemma's been keeping a big secret. What do you think happened to her on the other side?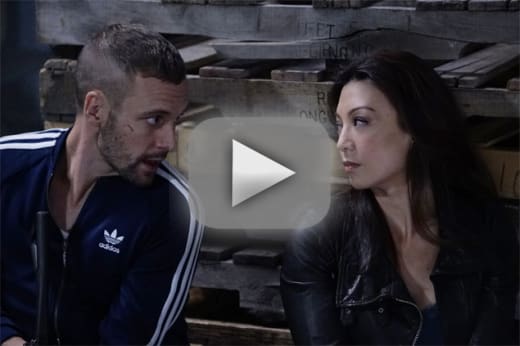 Alisha resurfaced and it was a cool twist that Lash killed her duplicate. It was also nice to see Nick Eversman (Kurt from The Tomorrow People) again, but a shame he wasn't around long. Lash did his thing efficiently, and we learned that he was tracking Inhuman's via an email virus. Going back to my theory, it doesn't seem like a stretch that Banks used ATCU resources to find his hacker.
I'm really enjoying the Daisy/Mack team up. Sure, he is one big dude, but we all know Daisy's the real badass now. Their disappointment made sense, one minute Rosalind and the ATCU were after Daisy and the next Coulson is working alongside her. I'm still not sure how I feel about Coulson's deal, but he claims "it's a means to an end."
The banter between Coulson and Rosalind is fun though. I like her.
Coulson: Where are you taking the victims?
Rosalind: That's classified. Oh, it's not fun when it's you, right? Can't believe I just said that to the Director of S.H.I.E.L.D.
Coulson: You know, I'm really not feeling the spirit of cooperation here.
Of course, Coulson was keeping secrets of his own. The young couple was already enhanced and Coulson didn't share that intel, allowing him to arrive on the scene first. It's such a tricky business, being a spy. The two have great chemistry, it wouldn't surprise me at all if they hooked up.
Elsewhere, Ward was up to no good teasing Kebo about Level 7. It's great to see his sense of humor is still intact. Ward also spoke admirably about S.H.I.E.L.D. for a minute, which keeps us wondering if redemption is a possibility. For now, he's the baddie we love to hate.
Hunter's plan was just plain desperate, "You do realize the point of intelligence gathering is to gather intelligence" May pointed out. She was right, Hunter was being sloppy and emotional. May will never forgive him if Andrew was killed.
Speaking of the good doctor, his sit down with Simmons was uncomfortable. 
Simmons: I know you're looking for signs of PTSD, but I assure you I'm fine.
Garner: You've been through something pretty extreme. There will be after-effects, and that's okay. It's okay to struggle.
I wondered early on if Simmons was 100% human, or if she's possibly hosting an alien parasite. The certainty with which she told Dr. Garner he was wrong about her ordeal being over is telling. I am glad she's opened up to Bobbi and now Fitz, but what happened to her "over there"? Fortunately, the next installment will shed some light on that very subject. 4,722 hours on an alien planet is an eternity.
Agent May turning to Coulson for help was the right move. Good thing someone's using their head, Hunter was on a suicide mission. I actually started worrying about him when Kebo locked him in the trunk of the car. May and Coulson are so brilliant together, I hope this means she's back for good.
A red flag went up when Daisy questioned Coulson about IT guy Dwight Frye and the ATCU turning a blind eye. "What if they're running him?" Daisy asked. This brings me back to Rosalind's right-hand man, Banks. What do you think, is Banks the Inhuman killer? Clearly he has easy access to track Inhumans down, right? When Frye had his reaction to Daisy, Banks was standing right next to her. I'm assuming Frye never met Banks, only Lash.
Coulson: Mr. Frye we can help you, but you have to trust me. This Lash is not some angel of mercy.
Frye: No, he's no angel. He's just a guy trying to do the right thing.
As I mentioned at the top, Banks went ahead of the truck back to ATCU headquarters. Did Rosalind ask him to tidy things up for their S.H.I.E.L.D. guests? What's she hiding from Coulson? Was she prepping a cell for Daisy? Is she the one holding Lash's leash?
Either way, the killer managed to locate the truck and kill Frye far too easily. For now, my money's on Banks. However, when Daisy said Lash could be anybody, it was Rosalind that walked into the room. Could she be the Inhuman killer? That would be an interesting twist.
Hunter finally came face to face with the Wardster and things escalated quickly. Luckily for him, Agent May arrived just in time to save his ass. While I understand Hunter's choice, it was selfish to put May's ex-husband in danger. I don't think Andrew died (we didn't see his face), but if he did May's going to be pissed. Ward teasing her was priceless, wasn't it? The guy is such a vile bastard. Why do we love him so much?
Bobbi convinced Simmons to come clean with Fitz, he deserved that much. "Something happened to me Fitz, on the other side." Jemma told him. I'm dying to find out exactly what she's talking about. We don't have to wait too long, just a week.
What did you think of "Devils You Know"? Who is Lash? Did Andrew die in that explosion? Is Simmons infected with an alien parasite? Your turn guys, sound off in the comments below. Look for our Agents of S.H.I.E.L.D. round table later this week.
Check out that showdown again! Watch Agents of S.H.I.E.L.D. online via TV Fanatic.
NOTE: Agents of S.H.I.E.L.D. Season 3 Episode 5 is titled "4,722 Hours" and airs on Tuesday, October 27.