Awkward Season 5 Episode 6 Review: Don't Dream It's Over
Paul Dailly at .
Tedious, boring and laugh challenged.
Those are just a few words to some up Awkward Season 5 Episode 6, which continued on from Tamara's ill-fated engagement party. It's becoming pretty apparent that Awkward has run out of steam. When you're trying to parody a TV show (Sex and the City) that most of Awkward's target audience will never have heard of, then you know something isn't right. 
Based on the promos for the episode, I thought it would be nice to see Jenna's back catalog of conquests, but they pretty much were just rude to her and chanted about all the things she did wrong while being in a relationship with them.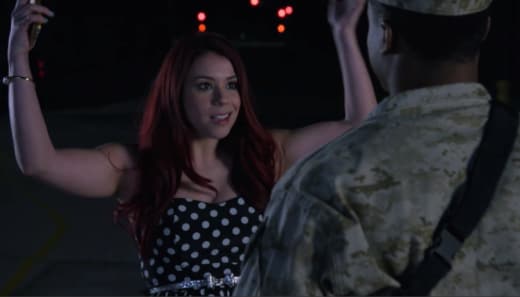 Her stupid realization that Matty was the one for her added more fuel to the fire. Any fan of the show has known this since the series premiere almost five years ago. Like, Jenna must be freaking stupid if she never thought he did. I can't fathom whether the show was just trying to be funny and needed a stepping stone to bring them back together, but this was just ludicrous. 
The Awkward we know and love is far, far behind us, and I'm getting ever closer to cutting ties with the show. All of the characters are being ruined by this notion that they are stupid. Jenna used to be this mature young woman, but now she's like an immature brat. 
Tamara's big adventure to get Adam back didn't help either. Like, why does she want him when she used him just to improve her social status? I don't believe for one minute that she loves him. That girl wouldn't know love if it smacked her in the face. She's the self proclaimed wit machine, but she's turning into a broken record.
Who'd have guessed that Gabby would be the bright spot again? I totally pegged her as the Eva of the season, but she's actually a pretty decent character. Yes, the writing for her isn't first class, but the chick who plays her actually cares about her role and the others just seem so done that they aren't turning in the performances they were last season. 
I have little hope that the show will remember it's roots before descending further into mediocrity. The show has gone through questionable storylines before, but with this being the final season, you kind of expect it to be pretty damn good from start to finish. 
Sadie and Lissa had little to do, apart from act as though they were Jenna's friends. We all knew this wouldn't go down well and the stupid Sex and The City music was horrible. 
So there we have it. I think you all know my thoughts on "Don't Dream It's Over." How do you feel about it? Did it live up to your expectations? Hit the comments below and let me know what you thought!
Note: Awkward Season 5 Episode 7 airs Monday October 16th at 9/8C on MTV.
Paul Dailly is the Associate Editor for TV Fanatic. Follow him on Twitter.