Betrayal and the ability to move on from it was the theme of Blue Bloods Season 6 Episode 5. It turned out that everyone dealt with being betrayed in different ways.
I felt for Sid Gormley. What a blow, to not only believe his wife was having an affair but to think it was with someone he had trained and respected. It was hard to blame him for losing it the way he did with Frank and as much as Frank hated the ultimatum, he seemed to understand why Gormley made it. If he hadn't, I don't think he would have asked Garrett to get answers.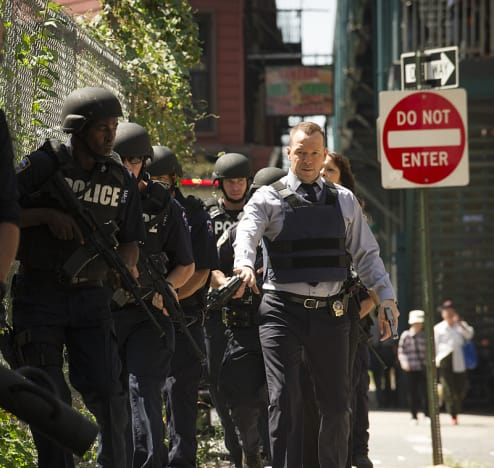 They have become quite a team. All three of them, Frank, Sid, and Garrett, are so very different and yet when they work together they can accomplish almost anything. 
Can they help save Sid's marriage? The first step was getting Sid to go home and actually talk to his wife. After that, anything is possible. 
Nicky's friend Chrissy came across as the typical, idealistic college activist. Unfortunately, in this case, she was using her causes to mask some deeper, personal issues. The moment Erin retrieved the surveillance video I knew it would show Chrissy writing the threats on her own door. Did she just want the attention? Did she need to be the victim? It's hard to say. 
What I found curious was Nicky's reaction to Chrissy's suicide attempt. A few days before, Nicky hadn't even told Chrissy her entire family was in law enforcement and yet she felt betrayed that the girl hadn't confided in her before trying to kill herself. Perhaps it's simply that college relationships can seem very intense, especially freshman year. 
I also thought it ironic that idealistic Nicky was ready to avoid trusting anyone after this one betrayal. As Frank told her in this Blue Bloods quote…
You're good people and good people try to move on from a betrayal like it's an exception not the rule.

Frank
If we held onto every betrayal, the world would be a very isolating and lonely place. 
Which leads us to Danny. 
Rose obviously had a lot of tough breaks, from an abusive husband to a prison sentence for killing him but it appeared Danny did all he could to help her. From visiting and exchanging letters to personally looking in on her teenage son, how many cops do that for someone they've arrested? 
Unfortunately Rose didn't seem to take responsibility for any of her bad choices and blamed Danny instead. Her fate was sealed the moment she and Trina broke out of prison. Between the video of the two of them stealing guns and beating up people along the way, the best Danny could do was try and make sure she didn't get shot when she turned herself in. 
But Rose didn't see it that way. When she didn't come to Danny the moment he stepped out of his car I knew something was off. When she pulled the gun on Danny I was surprised the Marshals didn't shoot her on the spot. I don't think I would have blamed them if they had.
Check back next Friday for our Blue Bloods Season 6 Episode 6 review and if you can't wait to see more of the Reagan family, you can watch Blue Bloods online here at TV Fanatic.
C. Orlando is a TV Fanatic Staff Writer. Follow her on Twitter.