Watching a TV show is all about expectations. For the last seven years, I've expected my Mondays to be happier because of new episodes of Castle. 
It appears I may have to learn to manage my expectations. 
I always believed that once Castle and Beckett got together as a couple, we would finally see what a fun, sexy, happily married couple looked like on TV. After watching Castle Season 8 Episode 3, it appears I was wrong. 
Beckett told Lanie she was feeling a little lost and needed some space. The audience is suppose to believe that she's taking this "break" from her marriage in order to protect Castle. But if these bad guys are so incredibly powerful and scary, wouldn't they kill Rick anyway just because he's her husband? Would they really say to themselves, "Eh, they're separated. She must not care anymore, so we'll leave him alone."
I'll have to set that leap of logic aside and move on. 
Lanie backed Beckett, and on one hand, I understand it. Kate is her best friend, but wasn't Lanie always the one who was pushing Beckett to be honest with Castle and give him a chance? Now Lanie's throwing Castle's two month disappearance back in his face. As Rick pointed out in this Castle quote…
I didn't Houdini. I was Houdini'd

Castle
What Beckett went through in his absence was horrible, but it wasn't Castle's fault or his choice. Why should he have to defend himself for wanting his wife back?
On the upside, Castle was adorable in tweed and glasses. I've always had a thing for men in glasses, although I personally would have picked a different style of frames…but that's besides the point. 
Esposito and Ryan were hysterical as they tried to "Jump Street" their prime suspect. At least I can still rely on these two to work together and make me smile. 
The most jarring thing about Alexis going undercover at the college was the blonde hair! Somehow that completely overshadowed her sexy angel outfit. 
Speaking of which, I was grateful to Esposito when he called Castle out on the methods he was willing to use to win Beckett back…
Including sending your daughter into a house full of drunken frat boys dressed like a slutty angel?

Esposito
Well, when you put it like that. It was good to see Castle's protective instincts kick in. My other favorite moment was Castle becoming the adult in the prison and ordering the student/guard to open the door and let them go. 
I'm not even going to harp on Alexis buying a 50-year-old case of Scotch on her father's dime. I'm just giving it the weekly Alexis Castle Eye Roll Worthy Moment of the Week, because apparently that's a recurring thing in Castle season 8. 
This episode was much darker than I expected. With the prison, the psychological experiments geared towards students because terrorists in the world are their age or younger, the student who snapped and turned into a murderer and Beckett's secret investigation, this hour had a disturbing bent to it. 
I was surprised to see Smith again and a little disappointed. Somehow it seemed wrong for Beckett to ferret him out without Castle by her side. 
Which brings me to my biggest problem. We got Castle partnered with Alexis and Beckett partnered with Vikram. Whenever Rick and Kate worked together, their scenes were filled with sadness. They are both miserable being apart, and I don't care how much Kate declares her love for him, this just isn't any fun. 
Esposito said that nothing in life is permanent. My fear is that he meant my Happy Castle Mondays because after this episode, I feel like I need the Castle Depression Rescue Kit, puppies included. 
If you're still watching, check back next week for our review of Castle Season 8 Episode 4 and if you're wishing for happier times, you can watch Castle online right here at TV Fanatic.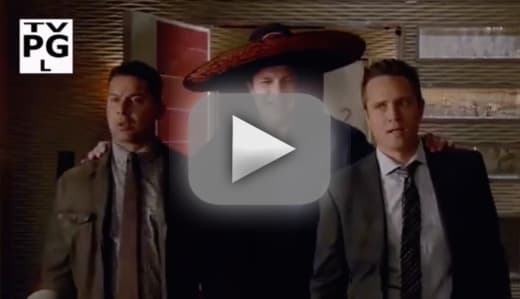 C. Orlando is a TV Fanatic Staff Writer. Follow her on Twitter.