Criminal Minds Season 11 Episode 2 Review: The Witness

doug@mediavine.com at . Updated at .
There was no more talk of absent agents this week as everyone pulled together to solve a troubling case involving a psychopathic unsub who was planning a sarin attack against the FBI.
This, unlike last week's offering, was a stellar episode designed to keep us wondering and on the edge of our seats the whole way through. And it succeeded.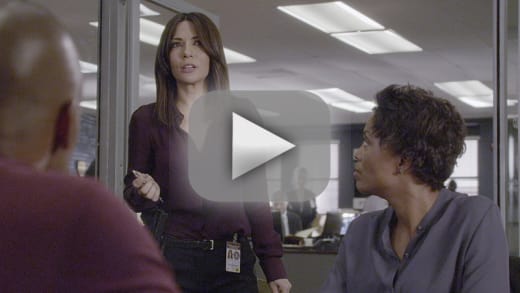 Criminal Minds Season 11 Episode 2 gave us the story of a bitter cuckolded man named Charlie Senarak.
Charlie had become so enraged by his wife's infidelity that he killed her lover – a man named Theo. Only, Charlie didn't realize that there was a witness to that event. Theo's half-brother Mitchell Crossford saw the murder, and used it as an opportunity to blackmail him. Mitchell wanted to attack the FBI, and he wanted Charlie to be the patsy and fall guy for that plan.
It was amazing to watch the two seemingly disconnected stories work on the screen side by side.
On the one side we saw the hapless Charlie being lead around by the nose (and cellphone) and on the other we saw the BAU trying to connect the dots on the sarin killer.
This was some great story-telling.
And what a great choice in actors to play Charlie! We're so used to seeing Tim Kang as the mostly unflappable Agent Cho on The Mentalist. It was just amazing to see him playing an out of control and highly emotional train wreck of a guy.
The long hair probably helped, too.
This role served as a wonderful showpiece for Kang: it's doubtful he'll ever be typecast again, which was a real danger because of his brilliant portrayal of Cho. The role of Charlie here shows that the man has a range. We can expect to see him more and more as other challenging parts come his way. Producers and directors, take note!
The other pleasure to this episode was seeing Dr. Tara Lewis mesh well with the gang, and in particular with Reid. It's almost as if she's been with them the whole time.
The philosophical discussion she had with Reid at the end not only showed her chemistry with him but provided a bit of worthwhile thought on which we could collectively chew. The notion that events today might not be as random as we thought, and that events took place hundreds of years ago to bring us to where we are today, is compelling. I'm not sure I buy it, necessarily, but it's worth considering.
All in all it was a relief to see this story, especially after the somewhat disjointed offering in Criminal Minds Season 11 Episode 1.
Final thoughts:
You may have recognized Marisol Nichols, who played Agent Colfax. She also is Tony's love interest Zoe on NCIS.
The episode was so well-written it could have gone over a several episode arc. In fact, that's the thought that occurred when Morgan opened the van door and only found a mannequin inside.
There may have been one small misfire: why did Charlie go back to the FBI building when he thought his daughter was in danger? And how could Mitchell have foreseen that he would do just that, and complete his plan for bringing the sarin directly to them? If I were Charlie, I'd be checking my daughter's school to see if she was there, or calling my wife. About the last thing I'd do is go to the FBI building. In fact, if I felt the need to contact them, I'd do so by phone. Time being the essence, of course.
The song playing at the end was "Here We Go" by Drew Holcomb and the Neighbors. It's on their album called "Medicine."
Remember, you can always see the episode again when you watch Criminal Minds online.
Be sure to join us next week for a story directed by Joe Mantegna on Criminal Minds Season 11 Episode 3 entitled "Til Death Do Us Part."
Now over to you. What are your thoughts on the second episode of the season? Were you able to figure any of it out early? Hit us up in the comments!
Douglas Wolfe was a staff writer for TV Fanatic. He retired in 2016. Follow him on Twitter
.