Gotham Season 2 Episode 4 Review: Strike Force

Lisa Babick at . Updated at .
Only four weeks in and Gotham has already shed its shiny new coat to slip into something old and comfortable.
And that's okay. You can't stay on a supersonic roller coaster all season.
The problem comes when you try to repackage an old character like Fish Mooney into something new like Theo Galavan. Different package, same smell, even with a brawny new captain and an alpha task force thrown in.
While it didn't seem that way in the beginning, things have slowed down a bit, and it certainly seems that way now, especially after watching Gotham Season 2 Episode 4.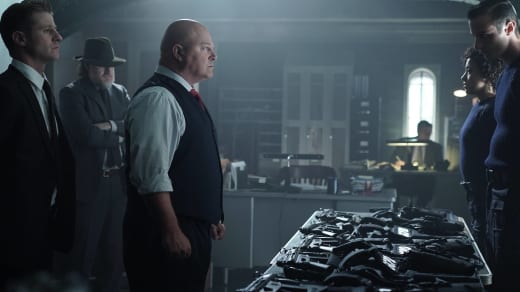 If that isn't the case, then how is it that Galavan, in one fell swoop, is able to make Penguin his little umbrella boy?
Penguin, the King of Gotham, who took down the city's biggest crime bosses, is now waddling all around town doing the bidding of big bad Galavan? How is that even possible? Kidnapped mother or not, this is Penguin we're talking about!
And doesn't anyone else think Galavan is one lucky bastard? I mean, the way everything falls into place for this guy: from Zaardon being at the right place at the right time to Jerome not blowing his head off during Russian roulette to Gordon being lured so easily out of the GCPD to Bruce turning his head at just the right moment to catch Silver St. Cloud frolicking in the fountain, and on and on.
It's all absolutely unbelievable.
And that's my other problem. I am willing to suspend my disbelief to heights beyond impossible because, after all, this is Gotham. But, the more Galavan's story develops, the more ridiculous and unbelievable it becomes.
No one is that lucky. Not even in Gotham.
I wouldn't even have much of an issue with his rapid rise if it was done at a slower pace, but everything is so rushed. We're not given the opportunity to savor Galavan and his diabolical plans (or his diabolical henchmen). We're just told to gulp it all down, and move on to the next scene.
In four short weeks, Galavan has become a one-dimensional caricature of himself, which brings me back to my original point about Fish Mooney being repackaged: it all seems eerily familiar.
But let's forget about Galavan and talk about Captain Barnes. He certainly made an entrance, didn't he? Big, bold, brawny. Fired some crooked cops. Gave an awe-inspiring speech about taking back the city. All in one exasperatingly long, eye-rolling moment.
Then he creates an alpha task force, finds himself some motivated rookies, all with heart-wrenching backstories – and in their first bad guy battle, they let a guy with only two guns take them down? Granted it was Zsasz and Zsasz is a badass, but, really?
Rookies or not, after that display of ineptitude, who do you really think is going to win the battle between good and evil? With all due respect to Michael Chiklis, Barnes doesn't have a chance, no matter how much tough he eats for breakfast.
About the only thing actually believable during this episode was Nygma and Kringle. Wasn't it amazing how easily Nygma shifted into his other, bolder self and was finally able to ask Kringle out?
The writers did a great job setting that up for us. Yes, it took a year to get to this point, but it was well worth it. And I absolutely loved how the dinner progressed, especially after Nygma almost ruined the evening. It was all so natural and believable!
Why can't the rest of Gotham be this way?
What did you think of "Strike Force"? Is Galavan too much like Fish Mooney? Will Penguin be able to get out from under his thumb? Did you like Nygma's personality change? Does Captain Barnes have a chance?
Let us know your thoughts in the comments below, and remember, you can watch Gotham online anytime, right here at TV Fanatic.