Homeland Season 5 Episode 4 Review: Why Is This Night Different

Carissa Pavlica at .
So who is Allison Carr anyway? She is a whole lot more than just a bitch!
Well before the end of Homeland Season 5 Episode 4, Carrie had me convinced Allison was the culprit with her utter faith in Saul. 
This season continues to become more dire and unpredictable by the week, and it's turning into one hell of a ride.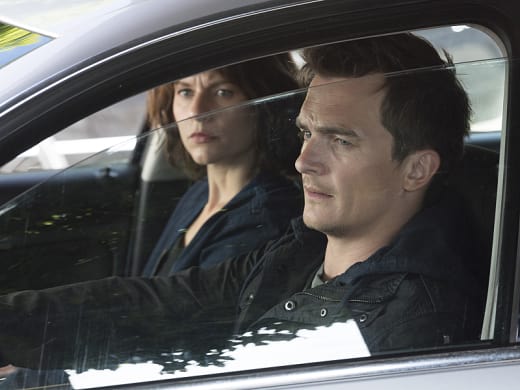 Speaking of bitches, let's start with Laura Sutton. She sure is full of a lot of hot air. As she was pulling in one of Jonas' clients, already in enough trouble for hacking that she's on three years house arrest (although I'm not sure how that punishment measures up with a computer at her side), and Numan's partner was being killed for trying to screw over the Russians, I could only imagine what was coming next for this crew.
Engaging Sabina, who is stuck in her house with no means of escape, seems like the worst idea ever, but Laura is filled with bad ideas. When she was bragging about being a person of interest, I wanted to reach through the screen and slap her. She isn't even smart enough to realize Carrie did her job protecting Otto by telling him not to go to Syria. Really? But she's a person of interest, so bow down to her cool ways. 
Now that Numan is the last man standing, what comes next for him? Will the Russians want his head, too? Laura's? Sabina's? It doesn't pay for a small fish to jump into a big pond. If there is information in those documents about what Allison has been doing, God help them all.
I've mentioned how much Saul has changed since last we saw him. Perhaps the most notable difference is that he would entrust someone he barely knows with important information. If I recall, he didn't even trust his wife with all of his state secrets, but he's on board with Allison because she's CIA and in his bed? Or something?
It's unclear what their relationship is at this point, but Allison is obviously a lot closer to Saul than we knew. A big part of that is likely that she's using and abusing him. While some viewers thought it was a terrible reveal for yet another woman to be connected to a man, thus making it a man's world in which these strong female characters roam, this seems like the opposite. Every indication right now points to Allison taking advantage of Saul Berenson.
Because would Saul really just hand over access to that post box? Would he even tell her about it? That's iffy. It's more likely she had him followed and did some recon to discover his secrets, using them against him to rid her of Carrie Mathison. Why the grudge? If it's only because she's a lover scorned, I'm going to cry foul. THAT will put us right back into the "every strong woman on Homeland must be attached to a man" category, and that won't do. That cannot be right.
So what is it? Did someone else put out the hit and trust Allison to carry it out? I'm open to suggestions here, but while a season that boils down to two tough women in a battle to the death wasn't expected, it may be what lies ahead. 
With regard to the operation to trap General Yusef into a coup, I wasn't altogether certain Allison didn't have her hands dirty on that plane exploding, either. Was the look on her face sufficiently emotive for the moment at hand? At least Saul gave an appropriate, "Oh my God." Allison is cold as ice. Share your thoughts on her, please.
Finally, we have to discuss Carrie and Quinn. Their scenes together were electric. Carrie's refusal to believe the man she trusted with her life so many times would have such low regard for it two years later was fitting, as was Quinn's belief that it was all a job and not his to question.
Just when you think you've seen a magnificent character portrayal by Claire Danes, she pulls out all the stops as Carrie Mathison, mother, and really throws us for a loop. Recording the videos for Frannie showed Carrie's vulnerability in a way we've never seen, and a love deeper than she's ever expressed. 
When she mentioned it, somewhere in the back of my mind, I recalled that Quinn might have had children, but in that moment, the idea hit like a ton of bricks. What he's done and given up, and the contrast to the lengths Carrie was going to go to try to stay alive were a highlight.
Will Quinn be able to help moving forward? It looks like Carrie is going to have to go to Astrid for assistance on Homeland Season 5 Episode 5. Surely she's going to tie Allison into what's happening. But what is happening? 
What did everyone else think of "Why Is This Night Different"? Is Allison an honest to goodness spy, planted in our ranks? Could she have leaked the documents herself, put the hit on Carrie and blown up General Yusef's plane? Who the heck is the woman? We really need to know! 
Carissa Pavlica is the managing editor and a staff writer and critic for TV Fanatic. She's a member of the Critic's Choice Association, enjoys mentoring writers, cats, and passionately discussing the nuances of television and film. Follow her on Twitter and email her here at TV Fanatic.