Jane the Virgin Season 2 Episode 1 Review: Chapter Twenty-Three

Amanda Steinmetz at . Updated at .
It's been a long summer wondering what was going to happen to baby Mateo.
Thankfully, we didn't have to wait long for Jane and Rafael to be reunited with their son.
Not only did Jane the Virgin Season 2 Episode 1 wrap up the kidnap storyline rather quickly, but it also introduced a new mysterious figure who has their eye on Jane.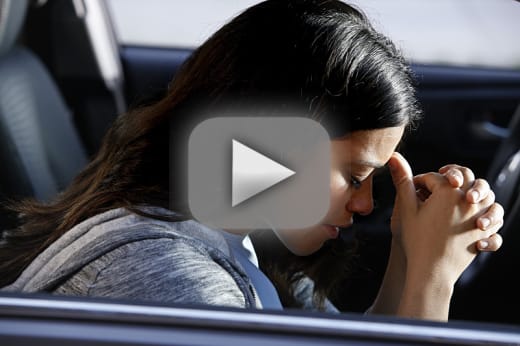 I have to thank the writers for handling Mateo's kidnapping in a way that was heartfelt and, weirdly enough, funny. I had a lot of concerns after watching Sin Rostro kidnap Mateo in the season finale. I didn't want this storyline to be dragged out because this is supposed to be a comedic show, for the most part, and babies being kidnapped is not usually what I think of as being funny.
However, Mateo was returned to Jane and Rafael less than 15 minutes into the episode. Those 15 minutes also reminded me how brilliant Gina Rodriguez is at playing Jane.
She was able to express maternal emotion while also delivering some hilarious physical comedy. I can't get over how silly she looked while waddling around. 
Rafael: Wait, what? You just gave birth.
Jane: Yeah, exactly. I'm his mother, and I have to feed him in 92 minutes, so I'm not just going to sit here and wait. I'm going. End of story. I'm just going to need a hand out of bed. Grab those wipes, and grab that burp cloth. Oh, and I need pants. Hey, can you grab me that bag of, um, adult diapers. Alright, let's go!
Thankfully Michael was there to help Jane and Rafael get Mateo back. He even gave up the chance to find out what was on that micro chip in the brooch. I know there a lot of Team Rafael fans out there, but I'm going to risk everyone going for my jugular and say that I am Team Michael all the way. Even the Narrator thinks he's a mensch!
Jane's starting to have feelings for Michael again, but it will be hard to walk away from Rafael if he keeps taking his shirt off like that. In all seriousness, I thought Rafael's intention to assert his place as Mateo's father was good. Rafael has making up to do, and the best thing he can do right now is be the best father he can be.
I'm also thrilled that the Michael/Rogelio bromance is still alive and well. The development of their friendship toward the end of last season was a joy to watch. Rogelio is still as self-centered as ever, but his concern over wanting to help Jane was really sweet.
One of my favorite aspects of the show is Jane's relationship with her mother. This is probably the first mother-daughter duo since Lorelai and Rory on Gilmore Girls that I've really been taken with. Xo made a lot of mistakes as a mother, but she also raised an amazing daughter.
The love between these two feels genuine, and they have an ease of going back and forth from serious talks to laughing uncontrollably. Jane shouldn't worry about being a good mother because if she loves Mateo half as much as Xo loves her, she'll be just fine. 
Xo: How can I help?
Jane: When he opens his mouth, will you stuff my boob in it like it's a hamburger?
Xo: Honey, I am all over it.
Let's switch gears for a moment and talk about Petra. Her character was originally written as a one note villain, but we slowly peeled back the layers to show a woman always in conflict with herself. Even when she's doing bad things, it's hard not to feel some sympathy for her. 
Petra obviously wanted a family with Rafael as we saw in her flashbacks. That couldn't have been an act. She seemed truly happen in those scenes.
However, that was then and Petra has resorted to using a turkey baster to artificially inseminate herself with what's left of Rafael's sperm. I don't know if it will work, but if it does, she'll have a hard time explaining this to Rafael without coming off looking like a psychopath. 
There wasn't much focus on Xo and Rogelio's drunken marriage because of all the craziness going on in the episode, but I'll be curious to see where their relationship goes moving forward. Jane and Alba didn't seem too fazed by it. In fact, they laughed while watching the video. 
Then we have the mysterious ending. Who is this woman that wants to come after Jane and why? It can't be Sin Rostro again, could it? 
So over to you guys! Are you glad they wrapped up the kidnapping plot quickly? Who do you think the mysterious woman is? Is Jane still going to be bothered by fans thinking she had an "immaculate" conception? What are your predictions for Jane the Virgin Season 2 Episode 2?
Sound off below, and don't forget you can catch up on any missed episodes when you watch Jane the Virgin online via TV Fanatic!
Amanda Steinmetz was a staff writer for TV Fanatic. She went into retirement in June of 2027. Follow her on Twitter.