Reign Season 3 Episode 1 Review: Three Queens, Two Tigers
Miranda Wicker at . Updated at .
Welcome back to the world of French court and fancy costumes, TV Fanatics! The credits on Reign Season 3 Episode 1 just rolled and while this premiere episode itself was a mixed bag, I, for one, am incredibly excited to get back to the life of everyone's favorite fictional queen. 
Or queens, I should say. There are three of them now, even if one has been stripped of her titles and her dignity and locked in a cage with an actual tiger. Speaking of tigers, is Martin de Lambert the second tiger? Lord Narcisse? 
Who are we talking about here?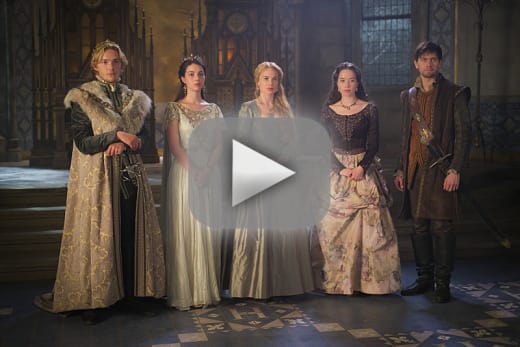 The best way to break down an episode like this one, because SO MANY STORIES, is categorically, so we'll start with the newest queen.
Queen Elizabeth
The introduction of so many new potential stories is probably the thing I liked least about the "Three Queens, Two Tigers," as well as the constant flip-flopping between France and England. 
I understand completely that part of what will drive this season's story is the feud between Mary and Elizabeth, but the every-other-scene in a different country thing got old. It felt like we were watching two different shows since it's clear that Mary and Elizabeth don't have any plans to sit down and discuss anything at all, probably because the two never sat down and did anything of the sort in real life. 
(They didn't meet until Mary fled to England to seek aid from Elizabeth and wound up locked in a tower for 19 years before she was beheaded. We don't have 19 seasons to wait.)
At this point, I'm not even intrigued by Elizabeth and her war and desire to stay on the throne in England. Historically, I know it happens, but meh. What's happening in France is infinitely more important to this series at the moment.
Mary and Francis
THEY are what's happening in France. Mary and Francis have overcome her affair with Conde, and now they're faced with the very real threat that he's dying, which will leave her a widow in a land to which she has no claim. They don't have a child, so France isn't hers once Francis is gone, and hold on to your hearts, people, because King Francis is going to die.
Showrunner Laurie McCarthy spoiled that funfact earlier today ahead of the premiere saying she wanted fans to have time to get used to the idea that Toby Regbo would be leaving. Everyone on set has always known Regbo's character would die; it was always a matter of timing.
That time is Reign Season 3.
I know, I know. I'm also on the verge of tears.
Mary and Francis are the heart of the series for me (even though I totally dug Mary and Bash). Right now, this couple is more in love and united that we've ever seen them, and part of that is driven by Francis' knowledge that he only has a short time to live. He doesn't want to die and leave Mary unprotected, but he also doesn't want to spend his final days doing politics and things he doesn't love. 
He really just wants to spend his time doing Mary and building a boat. I mean, he's dying, so okay? Build a boat, dude. That's totally a worthwhile endeavor. Maybe Mary can use it to peace out of France when you die.
(But please don't die. Change your mind, Laurie McCarthy! Rewrite history! We give you total permission to do that!)
Lord Narcisse and Lola
When Francis dies, he's not only going to be leaving Mary unprotected. His son, John, and Lola will also be left to fend for themselves. Those who would seek to unseat his family from the throne will no doubt come after Baby John. That's why Francis needs to rethink his position on Lola and Narcisse.
Lola and Narcisse are fabulous together, mostly because Narcisse is devilish and dangerous and also very...tender. Especially when it comes to Lola. If Francis wants to make sure his son gets to grow up into a man who might one day be king, he could do worse than entrusting him to Narcisse.
Narcisse will protect John because Narcisse loves Lola and Lola loves her son. See how that works, Francis? Maybe give it some thought. Lola certainly is, and Narcisse is too. Or they're at least giving each other some thought.
Francis will not be able to keep these two apart and at some point, he's going to have to stop trying. I'm ready and waiting for the moment when he does.
Catherine de Medici
How devious was it for Catherine de Medici to promise Charles to Elizabeth? Was she doing that to unseat Mary or to secure peace for France? 
It's hard to say with Catherine because her motives are never, ever entirely pure. There's always the chance that she's trying to do the "right" thing, but her methods of going about that are always terrifying. Was she trying to save France by going to Elizabeth, or was she trying to save herself? Just unseat Mary?
It's probably all of the above, and we'll never have the full scoop. Seeing her get shoved into that mobile prison by Martin de Lambert was really all the reason for him to appear on the series that we needed, but instead we got a little more than that.
Martin de Lambert
Martin de Lambert is a pirate. Mary wants him to steal gold for them so they can continue to finance their war with England to save Scotland from Protestant rule. He wants to marry Greer but really he just likes sleeping with noblewomen?
Sounds a little too Prince Conde for me, quite honestly. (Plus Greer + Laith = FOREVER) I'm totally over Martin unless his story gets more interesting. And fast. The same goes for...
Charles
I have a suspicion that Charles, who has a reputation for being a party boy and troublemaker, isn't interested at all in ascending to the throne. Or in women. I don't know exactly why I think we're moving in the direction of Francis' little brother being gay, but something tells me that's why all of his parties are so secretive. 
We'll see. I'm moderately intrigued by the new dauphin. Moderately.
Bash
Please, for the love of all that is good and wordy, give Bash a good story this season. This stuff with Delphine is interesting, but also sort of weird. I mean, it is, right? Weird?
She says she didn't kill the guy. Mysterious rope burns are appearing and disappearing on Bash's wrists. I want more Bash, and I want it now. And without the witchy attachments currently binding him to his present story arc. 
What did you think of "Three Queens, Two Tigers"? Are you intrigued or disinterested by Elizabeth/Martin de Lambert/Charles? What's your dream story for Bash? Sound off in the comments below and don't forget to watch Reign online!
Miranda Wicker is a Staff Writer for TV Fanatic. Follow her on Twitter.