Scorpion Season 2 Episode 6 Review: Tech, Drugs, and Rock 'n Roll

Allison Nichols at . Updated at .
Walter, you need to take a minute to think about what you've done.
On Scorpion Season 2 Episode 6, Walter went off the rails. He was extremely reckless, and he basically killed Toby. Okay, yes Toby came back to life, but it was a very close call. 
Toby being Toby, obviously called Walter out on his reckless behavior, and rightfully so, but then that was it. Walter never apologized. He never told Toby that what he did was wrong.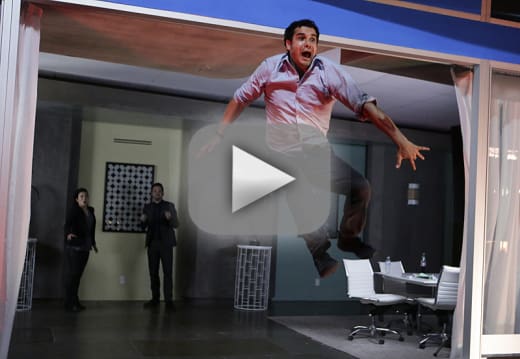 Um, hell no.
This is unacceptable. I don't need to see Walter agreeing to go out with Ray after his terrible first attempt at socialization. What I need to see is Walter making things right with Toby. There should be a riff between them. If I were Toby, I would have a hard time trusting Walter after that. 
I am happy to be alive. Thank you, Walter, but how are you feeling?

Toby
Sylvester was absolutely adorable with the kids. While it could have been really fun to see Sylvester and Happy trapped together, I did love watching Sylvester try to keep the kids calm.
Sylvester had to stay calm for the kids, which isn't always an easy thing for him to do. The moment where he was making the smoke filtration masks was probably my favorite moment. Does anyone else think that Sly would make a great teacher?
WWTSD?
Both Sylvester and Paige took a moment to think about how another member of Team Scorpion would approach the problem. Not only does this show how essential the team is to ultimately saving the day, but it was fun to watch them put themselves into the shoes and mind of another team member. I loved Paige's moment of victory whenever she got into the secretary's computer.
Paige and Cabe teamed up, and it was glorious. The newest members of Scorpion don't spend a lot of time together, so seeing them out on their own without any geniuses to help them was a breath of fresh air. We saw that they are good at what they do, even if they don't have a ridiculously high IQ.
For example, his shirt smells like the cheap perfume in his room. Maybe we can give it to a scent tracking dog who specializes in tracking sluts.

Paige
Paige being jealous of Walter was entertaining for a moment. Then it became a little annoying. What did you think of Paige's jealousy? Oh, and I need a gif of Cabe's reaction to the slut tracking dog comment ASAP!
If you have read at least one of my other Scorpion reviews, you know I love Quintis. They are my 'ship of the show.
That being said, I was disappointed in their interactions. Toby suddenly needed to prove he could do things on his own, without Happy.
Okay, but that has nothing to do with Toby trying to shut off his feelings for her. It would have been better to see Toby try to be a little standoffish around Happy or to have him just not really engage with her. Instead, we got Toby trying to show that he can do thing without Happy. Lame.
Then, there was Happy's reaction to Toby most likely being dead. We did get some emotion out of her, but I feel like she could have had that same reaction if Sylvester was in there, aka a guy Happy has no romantic feelings about.
Disclaimer: my TV did freak out and so I missed like a minute or two after Walter decided that it would be best to kill Toby, so I could have missed Happy's super emotional moment. Did I?
Here are a couple little things that bugged me. Cabe yelled freeze and drew his gun on the guy in a crowd instead of sneaking up on him. The guy didn't see Cabe or anything, and Cabe had to have known the guy would run since Cabe wasn't close enough to take him down or fire a shot.
How long has Cabe being doing this? He should have been a little smarter than that. Also, how did Walter get from the ladder back to the building?
Oh, and no one seemed to care about any of the people trapped in the building that weren't the kids or members of Team Scorpion. I guess they weren't in serious danger or anything, except for maybe dying of smoke inhalation. Yes, you have to fix the house in order to save everyone, but I honestly forgot there were other people trapped in the building until they all came rushing out.
What do you think of "Tech, Drugs and Rock 'n Roll"? Should Toby just forgive and forget Walter almost killing him? Leave me your thoughts in a comment below. Remember you can watch Scorpion online anytime via TV Fanatic.